Nine of the images on this page showcase a sight not seen in Milwaukee for decades: the original Allen-Bradley (now Rockwell Automation) four-sided clock, completed in 1950. On November 19 of that year,

The

Milwaukee Sentinel

reported it was "credited with being the largest four-faced clock in the United States" and had "faces measuring 21 feet in diameter."1

"Timing is by IMB" the article continued in a typo that might indicate how new and unknown the Information Age powerhouse then was. The company is referred to correctly as "International Business Machines Corp."2 earlier in the story. Exactly what motivated Harry Bradley to fund this giant tower clock is unknown. He was Allen-Bradley's leader after older brother Lynde died in 1942. The clock lasted just 12 years and then was converted to a temperature gauge that displays degrees in Fahrenheit to this day.

Its replacement—affectionately called the Polish Moon—was unveiled on Halloween, 1962, and is the largest four-sided clock in the world, with faces just over 40 feet in diameter.3 According to Milwaukee historian John Gurda in his book about the Bradleys, Harry intended the current timekeeper to be, "…the village clock for Allen-Bradley's home neighborhood."4 Architect Fitzhugh Scott, Jr., who designed its look said, "Harry wanted a clock that Allen-Bradley's workers could read from their houses."5 There is no mention of the Polish Moon's predecessor, but it's reasonable to think Harry's objectives for the 1950 clock were similar.

The octagonal shape of both timekeepers reflects Allen-Bradley's trademark, first registered in 1923.6 My interest began in 1982 when I became a writer for Allen-Bradley and discovered to my amazement that no one knew why the octagon was chosen to be the company's logo.

Researching that mystery took me through various archives and acquainted me with these evocative photographs of the 1950 clock. Each appeared on the cover of Allen-Bradley's monthly employee magazine, originally called

Gossip

and later renamed

Contact

.

I have also included a 1958

Gossip

cover photo that shows the southeastern corner of the Allen-Bradley complex and the neon logo that appeared just outside the double bay windows of the apartment Harry and Margaret "Peg" Bradley occupied at the plant. A black and white daylight view of the same corner is also presented.7 It came from a book published by the company titled

The Allen-Bradley Story

, copyrighted 1965, the year of Harry's death.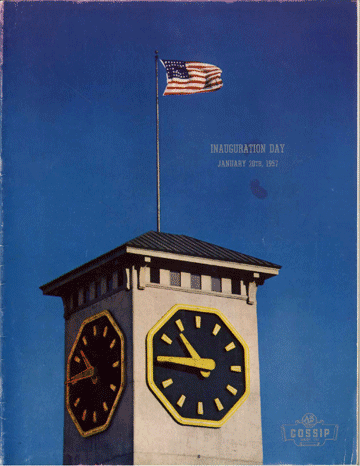 January 1957.
Courtesy of Rockwell Automation.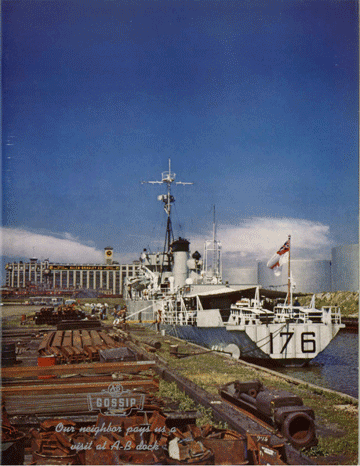 August 1958.
Courtesy of Rockwell Automation.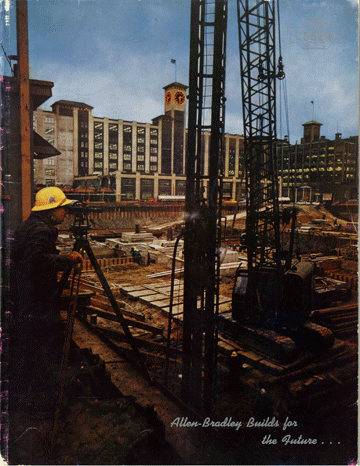 January 1960.
Construction of the building that
houses the current clock.
Courtesy of Rockwell Automation.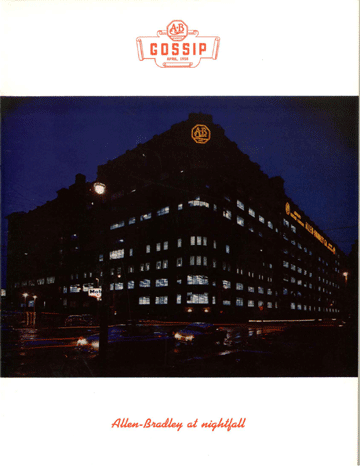 April 1958.

Southeast corner of the building

that housed the 1950 clock.

Courtesy of Rockwell Automation.

Footnotes

1.

Milwaukee Sentinel

, November 19, 1950.

2. Ibid.

3. Norris McWhirter, 1981

Guinness Book of World Records

, (New York:
Sterling Publishing Company, 1980) page 334.

4. John Gurda,

The Bradley Legacy

(Milwaukee, Wisconsin, Lynde and Harry
Bradley Foundation, 1992) page 129.

5. Ibid. Page 130.

6. Marion Wojtkowski, "How Did A-B's Octagon Mark Originate?"

Contact


July, 1982, page 7.

7. Allen-Bradley Company

The Allen-Bradley Story

(Milwaukee 1965)
page 36.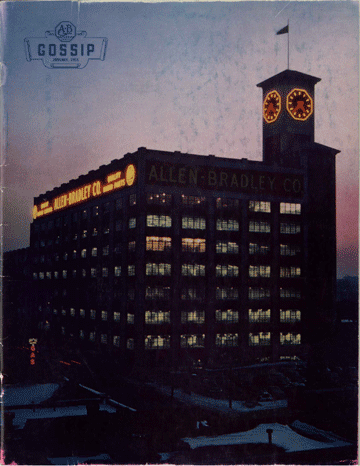 January 1951.
Courtesy of Rockwell Automation.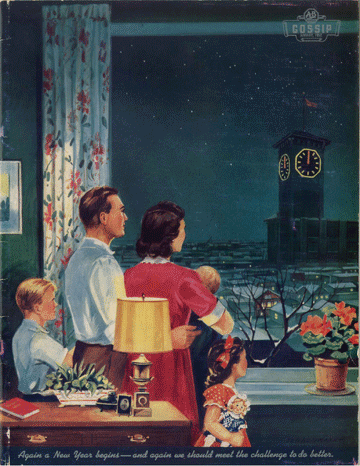 January 1951.
Courtesy of Rockwell Automation.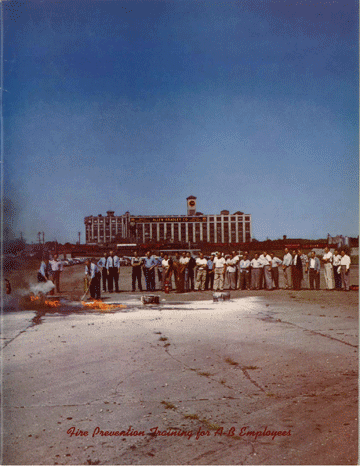 January 1951.
Courtesy of Rockwell Automation.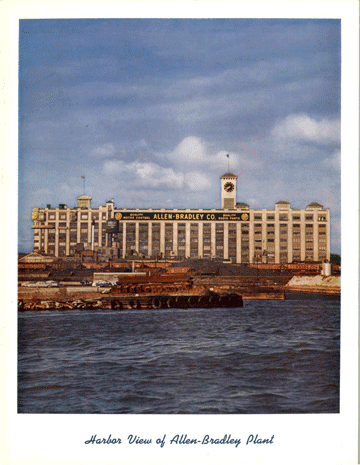 January 1951.
Courtesy of Rockwell Automation.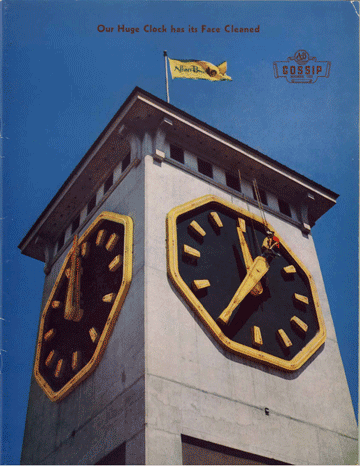 November 1953.
Courtesy of Rockwell Automation.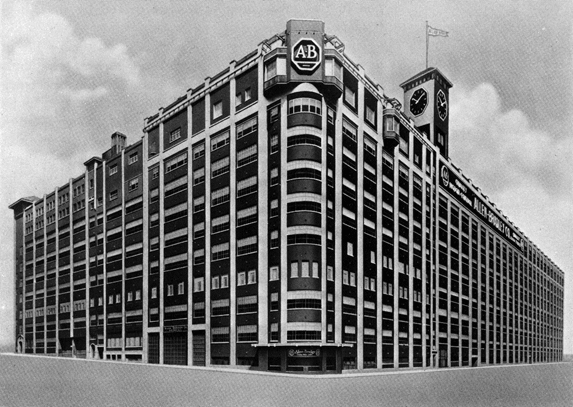 April 1958.
The Bradley's top-floor apartment ranges left and right
from the trademark, which had been updated by the
time this image was produced.
Courtesy of Rockwell Automation.



Return to tswrites.com