After scrolling into Christine's story on scratched microfilm at the Milwaukee County Library, I called every Cutler in southeastern Wisconsin hoping to find her. Not one knew of her or the call she received from Paul McCartney.
Then Jim Stingl, a columnist for the
Milwaukee Journal Sentinel
, mentioned Christy—the name she prefers—in an article that referenced my story. He soon received a call from her aunt, ironically, the same kind lady who came up with the idea of asking McCartney to call Christy when she was hospitalized in 1964. The aunt gave Christy's number to Stingl, and he wrote a story about her that is at
http://www.jsonline.com/news/63898972.html
. He also gave the number to me.
Christy said she is still amazed by the fact that she actually spoke with Paul McCartney. She mentioned that an earlier followup about her had been written by Phil Nero, a reporter for the old
Milwaukee Journal,
and sent a scan of the article. The story was published in 1993, when McCartney returned to the city with Wings and gave a concert at the now demolished County Stadium. Nero reported that after the 1964 call from McCartney was publicized, Christy received mail from across America. "Letters came by the bagful for weeks," he wrote, "mostly from young girls who wanted to be her pen pal."
I was surprised to learn that Christy's condition when McCartney called was so grave medical staff thought she might die. She attributes her recovery in part to the surprise interaction with her favorite Beatle. The conversation lasted about two minutes, and she has a clear memory of his English accent. Although barely able to talk, she asked if the band planned a return trip to Milwaukee. "Our manager makes those decisions," he replied. She was allowed to keep the Princess-style telephone, although ultimately the Wisconsin Telephone Company, in an Ernestine mood, took it back.
The cause of her illness was never diagnosed, but Christy believes exposure to the pesticide DDT about the time she fell ill was responsible. She has had other health problems and thinks they too stem from the now-banned-in-America chemical, the primary villain in Rachel Carson's powerful
Silent Spring,
1
published in 1962.
Christy was finally able to see The Beatles during their next visit to the Midwest. The band performed twice (3:00 and 8:00 p.m.) on August 20, 1965,
2
at Chicago's Comiskey Park, then home to the White Sox. She traveled to the concert with dozens of teens aboard a chartered bus. "I saw the 3:00 p.m. show," she wrote in response to my e-mailed question. "My parents would never let me stay up for a later show, especially if I'd get back later than 10:00 p.m."
Although the Beatles played a full set, including then-new songs such as
Help!
,
I'm Down
, and
Ticket To Ride
, Christy heard nothing but screaming, a typical Beatlemania concert recollection. Attendance at the Chicago shows was estimated to be 52,000.
3
Christy is married to Dave, a Lutheran Missouri Synod minister, and they have one son, Dan. Her favorite Beatles song is
Yesterday.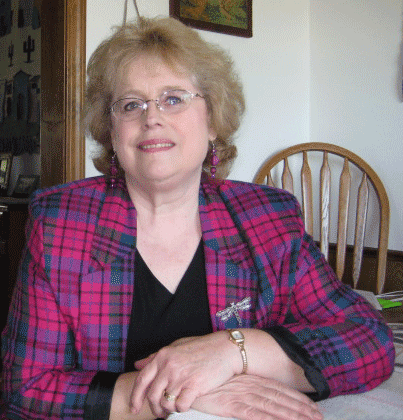 Christy 2009.
Photo by Dan K.