Kathy Remembers


Like the one from
Leo Sadorf
, this anecdote came to my attention while I was researching promoter Nick Topping. It's told by former Milwaukee resident Kathy Rippey, who saw Bob Dylan at Milwaukee's Oriental Theater on November 21, 1964. Her
story
was posted on Dylan's Web site by
DJ Bob Reitman
, who put me in touch with her.
Turns out she also attended The Beatles concert in Milwaukee and then saw them again (!) the following day in Chicago.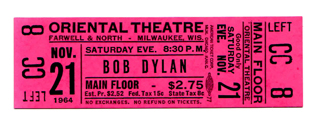 (Ticket scan courtesy of Darrel Pagel [samsrgreat@sbcglobal.net]. Many thanks! Note the admission price

of $2.75, which is about $20.00 in 2012 dollars according to a calculator at http://www.westegg.com/inflation/.)




Music Business Connections





She had an inside track: her father owned a Waukesha, Wisconsin, store called Triangle Records from 1949 to 1970, and she began what became a career in the music business at 14. Currently she lives in California and does publicity for a group called the

subdudes

.

Kathy can't remember which songs Dylan performed or attempted to perform at the Oriental, and I haven't been able to find a playlist. However, I located a site that shows many of his

1964 performances

and some associated playlists. It indicates Dylan sang the following at a November show in San Jose:


1. The Times They Are A-Changin'
2. Talking John Birch Paranoid Blues
3. To Ramona
4. Gates Of Eden
5. If You Gotta Go, Go Now
6. It's Alright, Ma (I'm Only Bleeding)
7. Mr. Tambourine Man
8. A Hard Rain's A-Gonna Fall
9. Talking World War III Blues
10. Don't Think Twice, It's All Right



It's likely some of these were scheduled for Milwaukee. However, Dylan didn't like the public address system and ultimately walked off, Kathy recalled. "I thought he sounded fine," she said, "but he was unhappy and kept talking to Nick Topping who was in the back stage area."

Her memory is not photographic, but she believes Dylan was dressed in slacks—not jeans—a plaid shirt, and boots. "His hair wasn't as spiky as it became and looked lighter than it did later in his career," she said. (A You Tube posting purportedly shows

Dylan performing in 1964

on a BBC program called "Tonight Show." Another site indicates the show's date was

May 12

.)

Kathy also saw Little Richard, The Dave Clark Five, The Animals, The Rolling Stones, The Yardbirds, Jimi Hendrix, Cream, and The Mothers of Invention in the sixties. That's quite a lineup, but it's hard to top seeing The Beatles twice and sitting at Bob Dylan's feet, all in the fall of 1964.