During the flapper era, my mother (Marie Bertha Emily Westfahl) was a teen or in her twenties. She was born in 1906 on a farm in the Town of Grant, just outside Tigerton, in Shawano County, Wisconsin, about 60 miles west and a little north of Green Bay. Probably when she was in her seventies or eighties, I asked if she was a flapper, and she laughed and shook her head yes. This seemed far-fetched, but I knew she traveled to the Milwaukee area as a young woman and worked as a "hired girl" for a family in Shorewood, a well-to-do suburb just north of the city.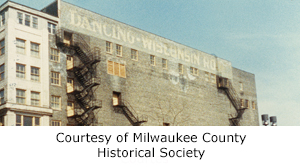 My mother loved music and dancing and during her time in the state's largest city frequented the Wisconsin Roof Ballroom, a seventh-floor hall at 536 Wisconsin Avenue—Milwaukee's main street—that opened in April, 1924.6 She recalled some of the musicians were African Americans, and she danced with a number of them when a different band was on stage. Decades later, when I worked at Sixth and Wisconsin, I noticed a faded, painted-on-the-bricks sign (above) for the Wisconsin Roof near the top of a building across the street and down the block from my office. (Click for additional Wisconsin Roof photographs.)

Recently an early photograph turned up that I thought might be of my mother. I wasn't sure because she was 44 when I was born and always looked completely different from the woman in the old black and white. My sister Charmayne thought it was but brother Bob wasn't sure, so I sent the picture to three cousins, Janie, Karen, and Suzy. Janie and Suzy thought it was her but weren't positive, Karen was certain.

Charmayne suggested showing it to our cousin once removed Aletha Westfahl, the daughter of our mother's Uncle Charlie (1892—1977), her father Herman's (1882—1956) younger brother. (Aletha's unusual name is Greek and means, "Truthful. Mythological goddess of truth.")

Aletha was just a little girl, but she knew my mother when she was a young woman; I sent the photograph to her and she said it definitely is my mom which is all the confirmation I need.

My mother's hair is short in the shot and held in place by bobby pins; on her right temple is a small loop that hair stylist Lisa told me is a spit curl.

"They [flappers] cut, or bobbed, their hair just below the ears and curled it in dozens of tiny spit curls with a new invention called a bobby pin," according to the Encyclopedia of Fashion. "Some also used electric curling irons to create small waves called 'marcels,' named after Marcel Grateau (1852–1936), the French hair stylist who invented them." 7 My mother appears to be wearing marcels.

Another website divulges spit curls, "...were also called kiss curls. The number of kiss curls a young woman wore was sometimes thought to be the same as the number of men she had been kissed by." 8

Probably while living in the Milwaukee area, my mother became friends with Hildegarde Loretta Sell (later world-renowned as "The incomparable Hildegarde"). Hildegarde also was born in 1906; spent her early years in Adell, New Holdstein, and Milwaukee, Wisconsin; and attended Marquette University in the twenties.9

They stayed in touch through the years, and when Hildegard visited Northern Wisconsin about the time I was born, my mother said they met and Hildegard held me as a baby. I regret not asking my mother more about how she got to know Hildegard, but I believe she said they met at the Wisconsin Roof in the twenties when they were about the same age and liked music and dancing. My mother spoke fluent German and it's probable Hildegarde—the daughter of German immigrants—did, too, another commonality.

In the image below, taken in April, 1925, when she was 19, Hildegarde's appearance is traditional, even old country, except for her hair and headband which seem influenced by flapper styles.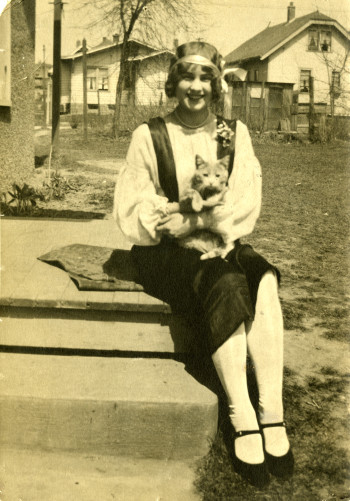 Hildegarde Loretta Sell in 1925, courtesy of Raynor Memorial
Libraries, Marquette University, Milwaukee.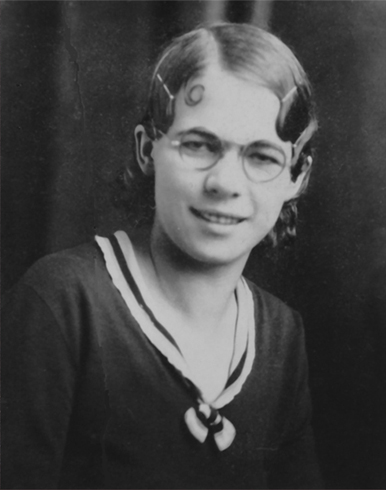 My mother, Marie Bertha Emily Westfahl, age
unknown, but possibly 17, her mother's
age in the photograph below.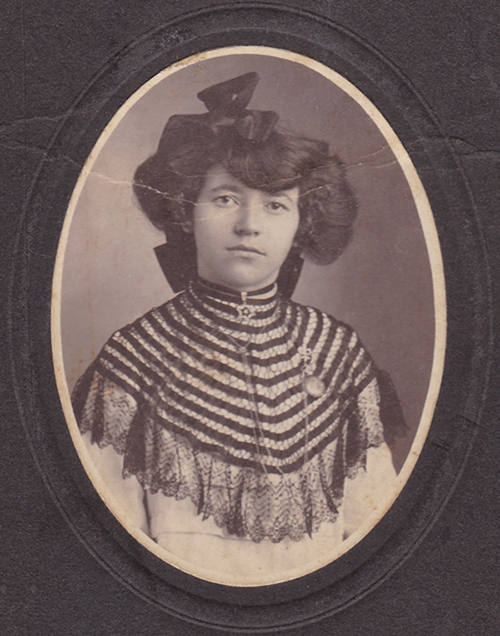 My grandmother, Marie Anna Friedericke Pesch (born, 1885), at 17.
There is a major contrast between her look and attire and her
oldest daughter's (my mother) who is in the photograph
at the top of the page. For expert commentary
on my grandmother and mother's clothing
from two apparel experts, click here.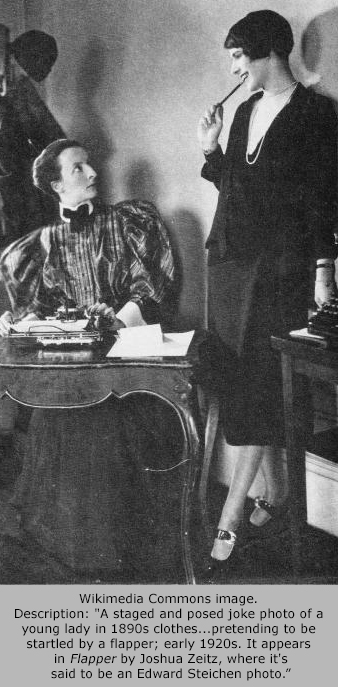 The image above delineates the clear differences
between the modern attire worn by flappers
and that of their predecessors.