A Library With An
Out-of-this-World Capability
Published on the Astronomy Magazine Website.
ŠTed Schaar 2009

Like similar repositories, the new public library in Pewaukee, Wisconsin, connects people to the cosmos through its collections. Perhaps uniquely, it also does so with its own observatory. Pewaukee is about 20 miles west of Milwaukee on the shores of Pewaukee Lake. The name comes from a Potawatomi Native American word meaning "dusty water" or "lake of shells."
The observatory's 12-foot Sirius Observatories fiberglass dome sits on the library's roof and shelters a 12-inch Meade LX200GPS-SMT. Access is gained by entering a secure door on the second floor and climbing a spiral stair. The door helps isolate the telescope from the building's HVAC system, reducing turbulence and the loss of cooled or heated air.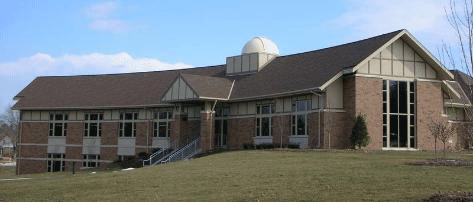 Photo courtesy of the Pewaukee Astronomy Club.
Funding was supplied by the family behind Pewaukee-based Harken, Inc., well-known in competitive sailing circles--including the Olympics--for its yachting equipment. Named the Harken Observatory, the facility is operated by the Pewaukee Astronomy Club, whose members volunteer to bring celestial objects to library patrons. "Education is our mission," says Olaf Harken, who co-founded Harken, Inc. with his brother Peter.
Amateur astronomers and professional engineers Scott Berg and Scott Jamieson helped specify the equipment, including the Mitty Industries, Inc. wedge. "To work reliably, Go To needs a great wedge and this one can be precisely adjusted," explains Jamieson. The pier is a section of heavy-duty aluminum round stock normally used to make pulley sheaves for sailing gear that was adapted by a craftsman at Harken, Inc. "It's very sturdy," Berg says.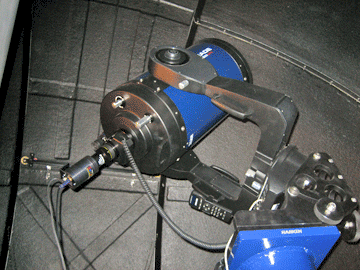 Photo ŠTed Schaar 2009.
The system is operated using Maxim DL software and the Meade Autostar Suite running on a Dell Dimension computer that resides on a landing off the spiral stair. Because of accessibility and safety concerns, only club members are allowed into the dome.
Public viewing is facilitated by a Starlight Express SXV-H9C CCD that captures an image and sends it to the computer, which relays it to a remote monitor in the library's Community Room where it is projected onto a large screen.


It's top-drawer-technology-galore, but the real fun is in the oohs and ahhs that come from library visitors who often are seeing live telescope images for the first time. Harken understands. He became an enthusiast while serving with the US Navy in Vietnam during the early sixties. "We were under dark skies, and I was captivated," he says.
Later, as he helped his brother build the business that bears their name, he joined the Milwaukee Astronomical Society—which has a number of telescopes, including a 25-inch, f/15, classical Cassegrain—and ultimately installed a 10-inch Meade LX200 in a dome atop a home he expanded. "Our friends and relatives got excited when we showed them Jupiter and Saturn," he says.
When his wife, Ruth, a member of the Pewaukee Library Foundation, became involved in the effort to build a new library, he attended a meeting and suggested adding an observatory. "We were enjoying ours so much, I wanted to take it to others, and funding a telescope for the library seemed like a great way of accomplishing that goal."


David Carroll, project architect with Zimmerman Architectural Studios of Wauwatosa, Wisconsin, handled the design work. "We put the dome where the building's two rooflines meet," he says, "and integrated a heavy-duty metal deck into the infrastructure to support the pier." Shielded lighting is used on the building and grounds.
Public invited


The PAC hosts a monthly astronomy session for the public. If clouds prevent using the observatory, a member gives a PowerPoint presentation. Sometimes the approaches are combined as they were when a talk on exoplanets was given by club member Randy Buchwald.
During the presentation, a sharp and steady, live image from the telescope of the Orion Nebula was used to show the massive star-forming region while Buchwald talked about the possibility that planets might be forming around some of its stars. PAC President Tim Walkowski said the observatory has showcased many objects, including several planets, the Moon, Andromeda, and other Messier targets.
Plans include creating an instruction guide that will help library patrons use the telescope on their own. "We're a ways from that, but it's an important goal," Harken says.
Walkowski wants to enlist more volunteers to operate the observatory and to increase public showings. "From an equipment standpoint, we'd like to synchronize the telescope and dome motors," he says, "so the units move together. This would be a big step toward a time when using the telescope might become nearly as easy as checking out a book."
Youth Services Librarian Jenny Wegener concludes: "We're all about promoting learning and exploration and the Harken Observatory goes right along with our purpose—what a cool thing to have!"