No one is more associated with
organized crime in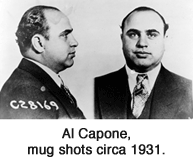 1920s and '30s America than Alphonse (Al) Capone. He was the Number One mobster of the alcohol prohibition era and even now heads Top Ten lists of the nation's gangsters.
But that's not how he saw himself.
According to the subhead of a
Chicago Tribune
article published on Tuesday, December 6, 1927—at the height of prohibition—in Capone's view, he was a "public benefactor."
1
Capone drew that self-image, writes Robert J. Schoenberg in his biography
Mr. Capone
, when he "...welcomed the press into his Metropole office for a valedictory and apologia..."
2
(The Metropole was a 19th-century luxury hotel that once stood at 2300 South Michigan Avenue not far from the Chicago Loop.)
He was leaving town due to pressure from Mayor Big Bill Thompson and Police Chief Mike Hughes. Thompson was a potential 1928 presidential candidate on the Republican ticket and needed to rid the Windy City of its most notorious crime boss to improve his election chances.
3
Capone's mood was effusive if somewhat defensive that Monday evening, and many of his comments and observations were reported the next morning in the
Tribune
, which deemed him "chief among Chicago's providers of the forbidden vices—wine, revelry, and games of chance"
4
—two of which were then illegal.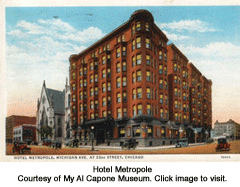 The article reports the police "...accused him of being one of the principals of a syndicate which has been reaping profits of $75,000,000 annually ($928 million in 2011 dollars
5
) in exploiting vice in Chicago."
"Public service is my motto"
What drew me to this story was another comment Capone made that night: "Public service is my motto. Ninety percent of the people of Cook County drink and gamble and my offense has been to furnish them with those amusements. My booze has been good and my games on the square."
The irony of that simple statement hit me hard. First, because alcohol and gambling—Capone mainstays—are now legal across the Land of Lincoln; second because he clearly took pride in his black market work. If he were alive today and involved in those same activities, he probably would be living contentedly in Evanston or another expensive Chi-Town suburb.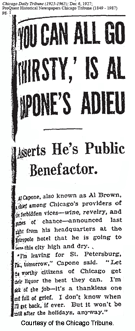 The "revelry" mentioned in the
Tribune
story might refer euphemistically to prostitution which is still illegal. However, it was a small part of his operations, even though he evidently contracted the syphilis that ultimately killed him from a prostitute, perhaps a worker in one of his brothels.
6
National alcohol prohibition ended not long after FDR was inaugurated in 1933, but gambling remained illegal except in Nevada and a few states where pari-mutuel betting and church- and other non-profit-sponsored bingo were permitted. Liberalization began in the mid-70s, when casino-style games were legalized in Atlantic City and Bryan v. Itasca County,
7
a unanimous 1976 Supreme Court decision that clarified state authority on tribal lands, permitted Native Americans to open casinos in various states.
Revenue inflow versus outflow
With sales of alcohol-containing beverages and gambling legal again in many places, governments began collecting taxes on these activities rather than spending equal or greater amounts trying to stamp them out. Susan Hofer, communications manager for the Illinois Department of Revenue, provided spreadsheets that show 325,898,810 gallons of various kinds of beer, hard cider, liquor, and wine were subject to Illinois taxation in 2010, producing revenues of $265,791,558. Federal taxes
8
are assessed on alcohol
produced
in a state not sold at retail. Thomas Hogue, media contact for the US Alcohol and Tobacco Tax and Trade Bureau, sent a table showing that federal alcohol taxes of $414,232,955 were collected from Illinois in 2010 for a total of more than $680,024,513 of alcohol-derived revenue in just one state. Total federal taxes on the production of alcohol across all 50 states in 2010 was $7,468,370,287.
Three forms of gambling are also legal in Illinois: casino games, betting on horse races, and a state-run lottery. Currently, all Illinois casinos are on "riverboats," an arrangement made possible by the Riverboat Gambling Act of February 1990. The Illinois Gaming Board 2010 Annual Report,
9
offers the following summary of revenues from nine riverboat casinos: "Adjustable gross receipts for 2010 amounted to $1.373 billion...In 2010, the State collected a total of $466,073,453 in wagering and admission taxes. The State share of taxes collected was $383,521,452...(and) $82.6 million was paid to host communities..."
10
Not bad potatoes.
Proceeds were even better in 2009 when "the state collected a total of $495,395,953 in wagering and admission taxes" and in 2008, when riverboat gambling revenues were $473,648,638.
11
In just the past three years, Illinois has collected well over a billion dollars in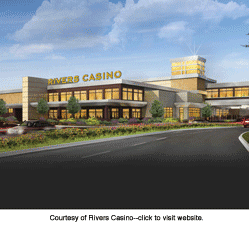 taxes related to riverboat casino gambling. Earnings should rise again in 2011 with the addition of the tenth gambling emporium—Rivers Casino in Des Plaines—which began operating on July 18, 2011. On that grand opening day, so many people wanted to enter the first legal casino in Cook County that "management ended up advising potential guests to 'consider delaying their visit' after the facility's parking lots were overwhelmed," according to a report in the
Chicago Sun Times
.
12
Looking at photos of the new facility, it's hard to fathom how it qualifies under the Riverboat Gambling Act. It doesn't look like it's floating. An article in the
Chicago Tribune
clarifies: "Today, casinos no longer have to cruise in boats, but they still have to be over water. To comply with state law, Rivers Casino was built over a shallow pit filled with a few inches of water that's hidden to visitors."
13
(Is it any wonder government actions and the people behind them often befuddle, even infuriate citizens?)
Horse racing produces more millions. Illinois Racing Board Director of Mutuels Robert Lang said that $725,792,958 was bet on horses within the state in 2010, generating $7,440,095 in taxes.
14
Pari-mutuel betting in Illinois is an anomaly in that it was legalized during Capone's era. In fact, the
Lake County News-Sun
avers: "In the 1930s, Al Capone reportedly held a silent stake in the old Sportsman's Park in Cicero."
15
The Illinois Lottery, which began in 1974, has produced the most revenue. After costs for administration, including advertising, publicity, and prizes, most of the state's winnings go to the Common School Fund (CSF) to support education. Communications Manager Mike Lang of the Illinois Lottery sent the following: "For the just completed Fiscal Year 2011, total Lottery sales were $2,278,760,665, an all-time high. FY2011 Transfers to the CSF were: $631,875,000...Total transfers to the CSF since the Illinois Lottery began is now just over $16.7 billion. Total Lottery sales since 1974 inception: $47.5 billion. Over $113 million has been transferred to 'other good causes' since inception (all within the last 6 years)."
Combined Illinois revenues from taxes on alcohol, riverboat gambling, horse racing, and the lottery (Table 1.) produced a haul of a billion and a third dollars in 2010.
Table 1: 2010 Illinois Tax Revenues From Alcohol And Gambling
| | |
| --- | --- |
| 2010 Alcohol: | $265,791,558 |
| 2010 Riverboat Gambling: | 466,073,453 |
| 2010 Horse Racing: | 7,440,095 |
| 2010 Lottery: | 631,875,000 |
| Total: | $1,371,180,106 |
Certainly alcohol consumption and gambling to a lesser extent cause a great deal of unpleasantness, but both are such completely ordinary human behaviors trying to prohibit them
across an entire population
leads to bigger problems, all the way up to murder,
even mass murder
. Although never convicted of anything more serious than tax evasion, Capone was connected to various homicides, including the St. Valentine's Day Massacre that occurred on the morning of February 14, 1929, when seven gangsters were gunned down in a Chicago commercial garage.
16
However, the government's no-holds-barred desperation to curtail drinking during prohibition makes the massacre seem inconsequential. According to Deborah Blum in a slate.com article: "Frustrated that people continued to consume so much alcohol even after it was banned, federal officials had decided to try a different kind of enforcement. They ordered the poisoning of industrial alcohols manufactured in the United States, products regularly stolen by bootleggers and resold as drinkable spirits. The idea was to scare people into giving up illicit drinking. Instead, by the time prohibition ended in 1933, the federal poisoning program, by some estimates, had killed at least 10,000 people."
17
Blum adds that the spirit of this unbelievably base policy was reincarnated in the 1970s when federal workers began spraying Mexican marijuana fields with paraquat, a chemical authorities claimed was toxic and might harm pot smokers. According to Blum, the government's attitude was "...if some citizens ended up poisoned, well, they'd brought it upon themselves."
18
Even with the 10,000 poisoning deaths engineered by the US government and the mayhem and murder meted out by bootleggers, in terms of carnage, alcohol prohibition didn't come close to what is occurring in Mexico due to modern drug prohibitions.
Time
magazine reports on this bloody reality in a cover story titled "The War Next Door":
19
"Mexico's national horror story is often told as a gangster epic full of lurid detail of the lives and deaths of drug kingpins. Or it's reduced to dry figures: the cartels make $30 billion a year, equal to the economy of a midsize Central American nation, moving marijuana, cocaine, heroin, and methamphetamine into the U.S.
20
...in Mexico, gangland homicides have claimed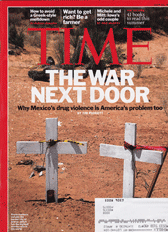 nearly 40,000 lives in the past five years..."
21
In an outrageous understatement, the
Time
article continues: "The U.S. helped create this beast. According to the White House Office of National Drug Control Policy, Americans consume $65 billion worth of illegal drugs annually, roughly what they spend on higher education, and most of those drugs are either produced in Mexico or transit through it."
22
Seven murdered in the St. Valentine's Day massacre? Sad as that was by any measure, what is taking place south of the border is magnitudes worse. A shootout in Monterrey, Mexico, on Friday, July 9, 2011, "sparked by a feud between Los Zetas and the Gulf Cartel" resulted in 21 deaths.
23
And that's just for starters: "That same day, 11 people were found shot to death in Chaco, just outside of Mexico City. One person survived the attack."
24
The next day, Saturday, "...the decapitated bodies of 10 people, including three women, turned up in the northern city of Torreon in the trunk of a vehicle."
25
Forty-two murders in 48 hours and even that is not the grossest example of drug-trade-related violence in Mexico as the following story from August 26, 2010 illustrates: "Heavily guarded mortuary workers have begun identifying 72 migrants massacred near the U.S. border...The government's chief security spokesman said the migrants were apparently slain because they refused to help a gang smuggle drugs..." 'The information we have at this moment is that it was an attempt at forced recruitment,' Alejandro Poire told W radio. 'It wasn't a kidnapping with the intent to get money, but the intention was to hold these people, force them to participate in organized crime—with the terrible outcome that we know.' The victims of what could be Mexico's biggest drug-gang massacre were traversing some of the nation's most dangerous territory, trying to reach Texas. The lone survivor said the assassins identified themselves as Zetas, a drug gang that dominates parts of the northern state of Tamaulipas."
26
One year later to the day, on August 26, 2011, 53 were burned to death in an attack on a Mexican casino, another massacre attributed to the Zetas.
27
It's likely even Al Capone would be appalled by the violence the illicit drug trade in Mexico causes.
And these murders weren't committed by people using illicit drugs who were rabidly wild-eyed like characters in the melodramatic Hollywood anti-drug films of the 1930s. Far from it, the killers were operating intoxicated by the oldest human stimulant of all: money. Just plain, hard cash...and the power it brings.
What is happening in Mexico—and America's obvious role as the primary cause—should by itself justify legalizing currently prohibited drugs in the US and removing the profit-incentive that is ravaging that country. How can anyone be comfortable with laws that have directly caused the deaths of 40,000 Mexicans in just the past five years? I wasn't able to find an estimate of the total number of Mexicans who have been murdered in the four decades since Richard M. Nixon declared a "war on drugs,"
28
but it's reasonable to think it would raise the toll of 40,000 in the last five years considerably, probably by tens of thousands. The
Time
article mentioned above also reported that drug-war-related homicides between 2006 and 2011 in Mexico were "up from less than 7,000 from 2001 to 2005"
29
(as if 7,000 in four years is acceptable).
Some months after writing the above, I came upon a Yahoo! news story headlined, "Nine bodies hung from bridge in northern Mexico," that includes the following: "The victims were five men and four women, said the police in Nuevo Laredo...Last month the dismembered remains of 14 men were found stuffed inside a minivan left near Nuevo Laredo's town hall...More than 50,000 people have died in drug-related violence since President Felipe Calderon launched a crackdown on the traffickers after taking office in late 2006, deploying tens of thousands of federal police and soldiers across Mexico."
28.1

About a week after adding the above, an even more horrendous story of drug-trade-related murder in Mexico appeared in the
Milwaukee Journal Sentinel
. It tells of 49 mutilated bodies found in a "pool of blood"; click on the thumbnail to the right to read the shocking details.
Three weeks later, on June 8, 2012, more south-of-the-border carnage was reported by Reuters: "Fourteen dismembered bodies were found in a truck in the center of a town in northern Mexico on Thursday in what appeared to be the latest atrocity committed by rival gangs battling over drug-smuggling routes, local media said."
28.2
US illicit drug-related deaths
Illicit drugs cause deaths in America, too, but it's not easy to find statistics descriptive of the number who fall while selling drugs, battling for market share, or stealing contraband. The government is more inclined to report on the supposed direct ravages of the drugs themselves. For example, a 2010 report titled "Unintentional Drug Poisoning" from the US Center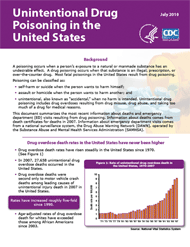 For Disease Control and Prevention claims: "In 2007, 27,658 unintentional drug overdose deaths occurred in the United States."
30
About 2,000 of the deaths were due to heroin, 5,500 due to cocaine, and nearly 12,000 to opioid analgesics such as Oxycontin, Vicodin, and methadone.
31
But are these figures believable? Sadly,
No.
The Consumers Union, in a classic, 1972 report titled
Licit & Illicit Drugs
, written by Edward M. Brecher and the editors of
Consumer Reports
magazine, took issue with the word "overdose" at least as it pertained to heroin: "...the dangerously wrong 'heroin overdose' myth must be promptly exploded once and for all."
32
In great detail,
Licit & Illicit Drugs
explains why heroin alone is not responsible for deaths attributed to "heroin overdose." Instead, it is heroin combined with alcohol or other depressants such as barbiturates that sometimes results in death. Jimi Hendrix and Janis Joplin are cited as examples.
33
Another Rock casualty popularly attributed to opiate overdose is Gram Parsons. An online biography, however, states: "Parsons died September 19, 1973, in Joshua Tree, California at the age of 26 from a lethal combination, purportedly of morphine and alcohol."
34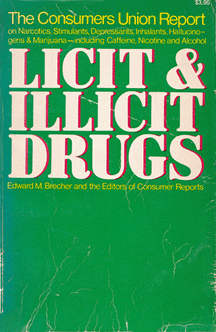 If
Time
'
s
assertion that Americans spend $65 billion on illegal drugs annually is true, enormous domestic criminal enterprises must exist to import and distribute them. And, just as is happening in Mexico, many so involved must die in the course of conducting their illicit business.
I spoke with specialists at the National Drug Intelligence Center, the Department of Justice, and the FBI trying to find out how many individuals in America are killed while involved in the black-market drug trade but have not received an authoritative answer or an estimate. A public relations professional at the FBI suggested I contact the Office of National Drug Control Policy (ONDCP). I sent an e-mail to the address listed at the organization's website, then a follow-up e-mail. Finally, I called and left a message. No reply.
Trying to patch together an estimate, I started with the following assertion I found at the US Department of Justice's National Drug Intelligence Center website: "Street gangs, outlaw motorcycle gangs (OMGs), and prison gangs are the primary distributors of illegal drugs on the streets of the United States. Gangs also smuggle drugs into the United States and produce and transport drugs within the country."
35
I found two sets of data that give some idea of how many Americans expire while engaged in gang activities, many of which are probably related to the illicit drug trade.
The US Department of Justice-funded National Gang Center states the following on its website:
36
"In any given year from 2002 to 2009, from 1,000 to 1,300 gang-related homicides are documented and reported in the largest cities in the NYGS [National Youth Gang Survey]."
37
Even if all of these murders are drug-trade-related, the total does not approach drug-trade-related homicides in Mexico over the past five years which stand at about 8,000 annually.
Another study sponsored by the Center for Disease Control and Prevention and co-authored by Debra L. Karch, PhD, Joseph Logan, PhD, and Nimesh Patel, MS, titled "Surveillance for Violent Deaths—National Violent Death Reporting System, 16 States 2008
"38
provides additional insights. Table 14 in the study shows that there were 620 homicides while a crime was in progress and Table 15 that 53 of these occurred while individuals were engaged in the drug trade. Sixteen states isn't quite a third of the nation, so it is possible that about 150 drug-trade-related homicides would surface if the study covered the entire US.
Prohibition linked to high homicide rates
Given how much trouble I've had pinpointing drug-trade-related homicides in the US, it seems this data is not of interest to the government. Why? Because such deaths are due to
drug prohibition
not the drugs themselves. One researcher, Jeffrey Miron, senior lecturer and director of undergraduate studies in Harvard's Economics Department, in a working paper titled "Violence and U.S. Prohibitions of Drugs and Alcohol" asserts that prohibitions have coincided with high rates of homicides in the US: "Roughly speaking there have been two periods with high homicide rates in U.S. history, the 1920-1933 period and the 1970-1990 period. Both before the first episode and between these two episodes, homicide rates were relatively low or clearly declining...The homicide rate was high in the 1920-1933 period, when constitutional prohibition of alcohol was in effect, as it was in the 1970-1990 period, when drug prohibition was enforced to a relatively stringent degree."
39
It's a tragedy that the US government cannot be trusted when it comes to war and vice. Official proclamations about either are suspect and should not be accepted without independent verification. I read
Licit & Illicit Drugs
when it came out and was amazed by the histories of medicine, inebriation, addiction, and prohibition it told—tales at odds with nearly everything the government (and media for that matter) had communicated on the subjects. In "Part X: Conclusions and Recommendations," the book called for an end to drug prohibition and advocated an approach to drug use—including alcohol and nicotine—it drew from the practice of medicine: "Physicians have a maxim:
Nihil nocere
. It means a physician must guard against doing more harm than good. A Nihil nocere guideline is needed for drug laws and law enforcement."
40
Bad behavior while consuming intoxicants should be addressed but the mere act of ingesting inebriating substances as an adult should not be a crime.
Licit & Illicit Drugs
also asserted: "Prohibition does not work. As the United States learned from 1920 to 1933, it didn't work with alcohol. As the country has been learning since 1914, it doesn't work with heroin. It isn't working today with marijuana, LSD, or any of the other illicit drugs. Nor is prohibition likely to prove more effective in the future...What prohibition also achieves is to convert the market from relatively bland, bulky substances to more hazardous concentrates which are more readily smugglable and marketable—from opium smoking to heroin mainlining, from coca leaves to cocaine, from marijuana to hashish."
41
It might have continued "from cocaine to crack" had this new way of selling coke existed in 1972.
Legalization because it's the right thing to do
When I was in my 20s, many people smoked marijuana on college campuses but heroin and other opiates were nowhere to be found. Now my daughter and son, recent graduates, tell me they know college-aged people who are heroin addicts.
It's high time for a change.
First, legalize drugs to eliminate the horrendous black markets that have killed 40,000 Mexicans in just five years and that employ hundreds of thousands—perhaps millions—of Americans and keep them and their families on the shadowy fringes of society.
Second, legalize drugs and release those who have been imprisoned for using or supplying illicit intoxicants. Exactly how many are being held is hard to discern. "Correctional Populations in the United States, 2009," by Bureau of Justice Statistics (BJS) Statistician Lauren E. Glaze states: "Correctional authorities supervised 7,225,800 offenders at year end 2009."
42
"Supervised" includes those incarcerated in state or federal prisons or local jails and individuals on parole or probation. I contacted the department in an attempt to determine how many were drug-law violators. Public Affairs Specialist Kara McCarthy replied: "That number cannot be found in any BJS report and one reason is because BJS adjusts the total correctional population (the 7,225,800) to exclude offenders on multiple correctional statuses (e.g. on probation and on parole; in jail but still on parole, etc.), but we don't collect that information by offense."
McCarthy directed me to three studies, each with tangential approximations of the number of individuals under supervision in 2009 due to drug-related offenses. Averaging these yielded 26% or approximately 1,878,708, but this is at best a rough estimate. For more information and access to the studies, visit
Convictions Due To Drug-Related Infractions
.
Third, eliminate drug prohibition to expand the freedoms that American right-wingers are forever crowing about. People should be allowed to take drugs so long as their actions do not harm others.
Legalization because it will save money
Should those compelling reasons fail to sway, how about legalizing drugs to save and generate money just as re-legalizing alcohol production and gambling did?
In a 2010 Cato Institute report titled the "Budgetary Impact of Ending Drug Prohibition," Miron and Katherine Waldock write in the executive summary: "This report estimates that legalizing drugs would save roughly $41.3 billion per year in government expenditures on enforcement of prohibition. Of these savings, $25.7 billion would accrue to state and local governments, while $15.6 billion would accrue to the federal government. Approximately $8.7 billion of the savings would result from legalization of marijuana and $32.6 billion from legalization of other drugs.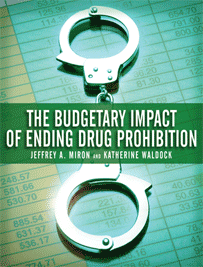 "The report also estimates that drug legalization would yield tax revenue of $46.7 billion annually, assuming legal drugs were taxed at rates comparable to those on alcohol and tobacco. Approximately $8.7 billion of this revenue would result from legalization of marijuana and $38.0 billion from legalization of other drugs.
43
Taken together, the projected $41.3 billion in enforcement savings and $46.7 billion in tax revenues would generate $88 billion per year. It would also be the end of a repressive, revolting, and utterly failed policy that has brought devastation, ruin, and death to Americans and countless others along the production, supply, and consumption chains.
Clueless anti-drug warriors
Coincidentally, I happened to view a speech
44
on C-Span that Ambassador William R. Brownfield, US assistant secretary of state for the Bureau of International Narcotics and Law Enforcement Affairs, recently gave. It underscores how hopeless the government's current policy is. The no doubt well-paid Brownfield was long on blather and pomp and short on ideas. He is just one of thousands of bureaucrats who have made livings trying and failing to solve the "drug problem." Probably the grossest indication of how disconnected from reality he is occurred 45 minutes into his appearance during the question and answer session that followed his talk. Moderator Eric Farnsworth, vice president, Council of the Americas and Americas Society, asked about the "comprehensive strategy" that Brownfield supposedly outlined. In response, Brownfield used a baseball metaphor: "We are in the first inning of a nine-inning game; we hope it's only nine innings and doesn't go into extra innings. And we are at this time still sorting out. We got our line-ups more or less but we're still sorting out how the flow of the game is going to proceed." Lucille Ball would blurt, "Aye-Yeye-Yeye!" It's been almost a century since the Harrison Narcotics Tax Act started the long drug prohibition we are—I can only hope—at the tail-end of, and Brownfield thinks any strategy at this point can be in any way new or "in the first inning"?
Advocates of a better way
Pro-legalization stories aren't popular with America's cowed mainstream media, but it was forced to take notice of a report published in June 2011 by the Global Commission on Drug Policy because of luminaries on the group's board, including former presidents of Colombia (César Gaviria), Mexico (Ernesto Zedillo), and Brazil (Fernando Henrique Cardoso); George Papandreou, prime minister of Greece; George P. Shultz, former US secretary of state; Paul Volcker, former chairman of the US Federal Reserve; and Kofi Annan, former secretary general of the United Nations.
This is from the report's executive summary: "The global war on drugs has failed, with devastating consequences for individuals and societies around the world. Fifty years after the initiation of the UN Single Convention on Narcotic Drugs, and 40 years after President Nixon launched the US government's war on drugs, fundamental reforms in national and global drug control policies are urgently needed. End the criminalization, marginalization, and stigmatization of people who use drugs but who do no harm to others. Challenge rather than reinforce common misconceptions about drug markets, drug use, and drug dependence."
45
Another surprising and hope-inspiring development occurred in late 2009 when Vice President Joseph Biden appeared on the cover of "The Ally," a newsletter published by the Drug Policy Alliance, shaking hands with Executive Director Ethan Nadelmann, a long-time advocate of drug policy reform. This is the group's mission and vision statement: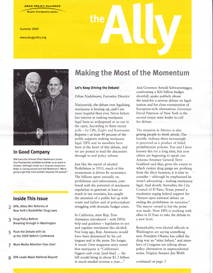 "The Drug Policy Alliance envisions a just society in which the use and regulation of drugs are grounded in science, compassion, health and human rights, in which people are no longer punished for what they put into their own bodies but only for crimes committed against others, and in which the fears, prejudices and punitive prohibitions of today are no more. Our mission is to advance those policies and attitudes that best reduce the harms of both drug use and drug prohibition, and to promote the sovereignty of individuals over their minds and bodies."
Parting words from an expert
Even Al Capone knew the evil of prohibition. During an interview at his Florida mansion, he told newswoman Eleanor Medill (Cissy) Patterson in 1932: "Prohibition has made nothing but trouble—trouble for all of us. Worst thing ever hit the country."
46
Try as they might, prohibitionists will always face an insurmountable hurdle:
human nature
. Capone knew and profited from the completely normal desires of people. Nothing is more obvious than that they enjoy intoxicants and dream of lucky winnings, even life on easy street, through nothing more difficult than a roll of the dice, a hand of cards, a winning lottery ticket, a galloping horse, or a combination of electronic connections in a slot or video poker machine that produces an explosive payout.
As Capone said during his 1927 press conference at the Metropole: "I never had to send out high pressure salesmen. Why, I could never meet the demand."
47
1. "You Can All Go Thirsty Is Al Capone's Adieu,"
Chicago Tribune
, 12-6-1927, front page.
2. Robert J. Schoenberg,
Mr. Capone
(New York: William Morrow and Company, Inc. 1992) page 188.
3. Ibid.
4. "You Can All Go Thirsty Is Al Capone's Adieu,"
Chicago Tribune
, 12-6-1927, front page.
5. http://www.dollartimes.com/calculators/inflation.htm
6. Robert J. Schoenberg,
Mr. Capone
(New York: William Morrow and Company, Inc. 1992) page 203.
7. http://en.wikipedia.org/wiki/Bryan_v._Itasca_County
8. http://www.ttb.gov/tax_audit/atftaxes.shtml
9. http://www.igb.illinois.gov/annualreport/
10. Illinois Gaming Board 2010 Annual Report, page 16.
11. Ibid.
12. http://www.suntimes.com/6577609-417/cha-ching-new-rivers-casino-opens-to-big-crowd-horrible-traffic.html
13. http://articles.chicagotribune.com/2011-07-15/news/ct-met-casino-bet-20110715-1_1_des-plaines-casino-rivers-casino-gaming-floor
14. http://www2.illinois.gov/irb/Pages/AnnualReports.aspx
15. http://newssun.suntimes.com/news/4031187-418/horse-racing-in-illinois-on-verge-of-extinction.html
16. Robert J. Schoenberg,
Mr. Capone
(New York: William Morrow and Company, Inc. 1992) pages 207--215.
17. http://www.slate.com/articles/health_and_science/medical_examiner/2010/02/the_chemists_war.single.html
18. Ibid.
19.
Time
July 11, 2011, pages 24--30.
20. Ibid.
21. Ibid, page 26.
22. Ibid, page 27.
23. http://online.wsj.com/article/SB10001424052702303544604576436640578916306.html
24. Ibid.
25. Ibid.
26. http://www.signonsandiego.com/news/2010/aug/26/mexico-starts-identifying-72-massacred-migrants/
27. http://mexidata.info/id3128.html
28. http://en.wikipedia.org/wiki/War_on_Drugs
28.1 http://news.yahoo.com/nine-bodies-hung-bridge-northern-mexico-174942376.html
28.2 http://news.yahoo.com/fourteen-dismembered-bodies-dumped-northern-mexico-032139064.html
29.
Time
July 11, 2011 "The War Next Door," page 26.
30. www.cdc.gov/HomeandRecreationalSafety/Poisoning
31. Ibid.
32. Edward M. Brecher and the editors of
Consumer Reports
,
Licit & Illicit Drugs
1972, page 531.
33. Ibid, page 113.
34. http://www.lyricsfreak.com/g/gram+parsons/biography.html
35. http://www.justice.gov/ndic/pubs11/13157/index.htm#relation
36. http://www.nationalgangcenter.gov/
37. http://www.nationalgangcenter.gov/Survey-Analysis/Measuring-the-Extent-of-Gang-Problems#homicidesnumber
38. http://www.cdc.gov/mmwr/preview/mmwrhtml/ss6010a1.htm?s_cid=ss6010a1%20%20%20%20_w#Tab9
39. http://www.nber.org/papers/w6950
40.
Edward M. Brecher and the editors of
Consumer Reports,
Licit & Illicit Drugs
1972, page 522.
41. Ibid.
42. Lauren E. Glaze, Bureau of Justice Statistics, "Correctional Populations in the United States, 2009."
43. http://www.cato.org/pub_display.php?pub_id=12169
44. http://www.c-spanvideo.org/program/DemocracyinCe
45. http://www.globalcommissionondrugs.org/Report
46. Robert J. Schoenberg,
Mr. Capone
(New York: William Morrow and Company, Inc. 1992) page 304.
47. "You Can All Go Thirsty Is Al Capone's Adieu,"
Chicago Tribune
, 12-6-1927, front page.
* * *