I took a copy of the prescription to Walgreen's and showed it to two pharmacists. Neither could identify what it called for other than the "hydrocortisone oint" listed in the penultimate line which they said was an anti-itch preparation. Next I contacted the Pharmacy Society of Wisconsin,
1
located in Madison. My e-mailed inquiry and image of the prescription were forwarded to Sarah Sorum, PharmD, vice president, Professional and Educational Services who replied: "Several of us around the office took a shot and no one came up with a definitive answer. Hereís what I can make out--'hydrocortisone oint' equals hydrocortisone ointment (a steroid ointment usually used for itching that is available over the counter). The 'c' with the line above it that appears after hydrocortisone oint stands for 'with,' but I canít make out the word that starts with D that follows; it does seem to be signed by the physician 'B.L. Chapman.' It really doesnít look like a valid prescription to me, but Iím not used to reading prescriptions from the 60s. I almost wonder if it served as scratch paper and the real prescription was turned in to be filled at a pharmacy. Another place you could reach out to is the American Institute of the History of Pharmacy which happens to be located at the UW School of Pharmacy in Madison. Greg Higby is my contact there."
Soon I was on the phone with Gregory J. Higby, Ph.D., R.Ph., executive director, AIHP.
2
He reviewed the prescription and replied: "Well, this is a pretty bad Rx and pretty typical of the day. Yes, near the bottom that is definitely hydrocortisone ointment with
something
. As Sarah said, this product then--
as now
--was for an itch. A couple of the items near the top are probably Bicillin (a penicillin antibiotic), Terramycin (oxytetracycline, another antimicrobial drug). What is between the Terramycin and the hydrocortisone ointment is a mystery to me as well! :-) So, from what I can decipher, the patient probably had a bad cold or something similar (sinus infection). The ointment was for some other problem leading to an itch. What you really need is a 70-year-old pharmacist, preferably of the corner drugstore variety. Oddly enough, if you can find one of the guys who worked near Dr. Chapman's practice, he might be able to read the Rx without much trouble."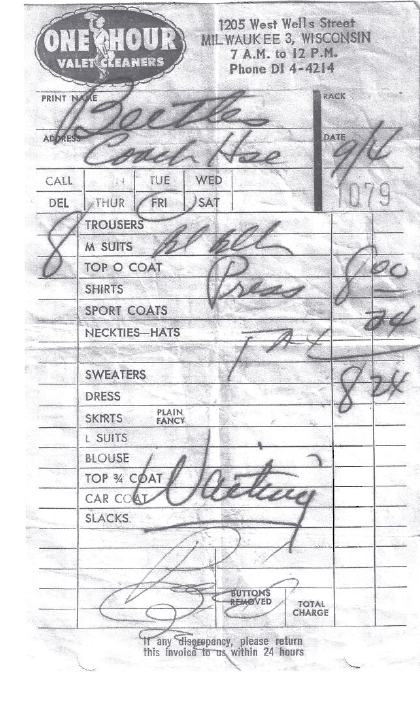 Heidi said her father-in-law also found,
"...a receipt for pressing--$8.00 for eight suits."
Not to forget Wisconsin's then 3% sales tax.