Toppermost of the poppermost





On September 4, 1964, The Beatles gave a concert in Milwaukee, Stop Number 12 on their first American tour which visited 25 cities, from San Francisco to New York. It was the only time the group appeared in Wisconsin.

When they took the stage at the Milwaukee Arena that late summer evening, they had already accomplished the lofty objective they set for themselves years before, as remembered by George Harrison:1



"John would shout, 'Where are we going, fellas?' We'd shout back, 'To the top, Johnny!' Then he would shout, 'What top?' 'To the toppermost of the poppermost, Johnny!'"



Five months earlier, Beatlemania reached an amazing peak during the week of April 4 when 12 positions on the Billboard Hot 100 singles chart were held by Beatles songs.2

On August 12, about three weeks before the Milwaukee concert,

Variety

estimated, based on inside information, that 80 million Beatles records3 had been purchased worldwide since the band signed its first contract with England's Parlophone label in the summer of 1962.4

Two-song, 45 rpm singles were priced at .79 each in an advertisement for Milwaukee's Gimbles-Schuster store that was published on September 3, 1964.5 At that price, Beatles' record sales by August of 1964 added up to $63,000,000, an amount that doesn't factor in higher-priced albums. In 2009 dollars, this is equivalent to more than $425,000,000.6 Ringo Starr was 24, John Lennon, 23, Paul McCartney, 22, and Harrison, 21.7

Lenore was a West Allis teen when she took a bus to The Beatles concert on that fabled Friday night in Milwaukee. Attendance puts her and the three other area residents introduced below in the tiny subset of fans who saw the Fab Four live.

The fact that she sat in the front row and was captured on film by a TV news cameraman—a copy of which was preserved by Milwaukee's "5th Beatle," WOKY DJ Bob Barry—elevates her into Beatlemania air so rare she should be able to charge Boomers to be in her presence.

She was at the show with sisters Sharon and Sue and friends Kay and Marlene but despite their great seats, they didn't hear much music. "I heard the first note of the first chord but from that point on The Beatles were completely drowned out by thousands of screaming girls," she said. "We screamed all the way through, too!"



Eleven rows back



Bruce was a Milwaukee teen old enough to drive his own two-tone, black-with-a-white-top, 1956 Buick Special Coupe to the concert with friends Barb, Chuck, Kathy, Shirley, and Sam. A picture taken by a

Milwaukee Journal

photographer over The Beatles' shoulders shows him sitting 11 rows back from the front. He still has a copy of the shot as it appeared in the paper. "I'll never forget the concert's electricity," he said. "The screaming was the loudest I've ever heard, and it didn't stop until they left the stage."

There was a bank of speakers above his seat, so he was among the few who could actually hear some of The Beatles' music despite the screaming. "But the whole atmosphere really overtook what was happening on stage," he recalled.

Jackie (who came to my attention in a column8 by

Journal Sentinel

writer Jim Stingl) was a Milwaukee teen when she went to see The Beatles with best friends Bonnie and Kathy:



"We used to meet at the bus stop on school days and listen to Bob Barry on a transistor radio. One morning he said he was going to play a new Beatles single, so we heard "Do You Want To Know A Secret" for the first time together. When it was over we stood and cried and thought it was the most beautiful song ever."



Sung by Harrison, "Do You Want To Know A Secret" was released in the U.S. on March 22, 1964, and reached Number 2 on Billboard's chart two months later.9 Prior to attending the concert, Jackie and her friends paid a confectioner to bake a cake in the shape of a guitar. "We delivered it to Bob Barry at the WOKY studios on Sherman Boulevard and hoped he would give it to The Beatles," she said. Barry took a picture of the cake before donating it to Children's Hospital, along with other food items fans gave him for the band. The photo of the cake is now on a DVD Barry produced that shows various images and items associated with The Beatles' Milwaukee stop.

Jackie and her friends sat on the left side about "half way up into the stands." They couldn't see very well and didn't hear much music. "But like most of the girls we screamed and cried throughout the concert; everybody had makeup dripping down."



Advance notice



Two-thirds back from the stage in the center section sat Bill, a Bay View teen. He accompanied his mother and younger sister to The Beatles show as their "aide-de-camp." He didn't hear any Beatles music. "There was no break in the screaming once they took the stage," he said, "it was loud as crazy." His knowledge of The Beatles predated their arrival in America because his dad, an engineer, was transferred to England when Bill was a teen and took the family along.

"After we returned to the US in 1963, I continued getting English newspapers and began seeing regular stories about The Beatles because they were causing so much commotion in the UK," he recalled.



Time

magazine reported on this in a November 15, 1963, story titled, "The New Madness." Under the subhead, "A Maniac's Shaping," it states unprophetically, "Though Americans might find The Beatles achingly familiar (their songs consist mainly of 'Yeh!' screamed to the accompaniment of three guitars and a thunderous drum), they are apparently irresistible to the English." An accompanying picture of the band performing in Buxton, an English city 40 miles east of Liverpool, is captioned, "The audience is pretty funny, too."



Tickets



The 12,000 or so individuals10 who had seats at Milwaukee's Beatles concert held tickets supplied by Topping and Co. International House, which was located near the intersection of Plankinton and Wells in downtown Milwaukee.11

Proprietor Nick Topping was an experienced concert promoter, having booked shows featuring Miriam Makeba, Josh White, Pete Seeger, and others. In February 1964,12 just after The Beatles were featured three Sundays in a row on the Ed Sullivan Show, he was contacted by Chicago-based Triangle Productions and offered an opportunity to promote a Milwaukee appearance by the group.13

Topping, a Greek immigrant who changed his name to reduce the discrimination he had experienced, was active in the Milwaukee Civil Rights Movement and marched with activist James Groppi. Later, according to Bob Graf, Topping was "the first supporter" of a group of anti-Vietnam War demonstrators who were indicted in 1968 for burning "approximately 10,000 1-A draft files."14 The protesters were dubbed the Milwaukee 14, and Graf was a member.

In a 1993

Milwaukee Journal

interview Topping said, "We didn't know what The Beatles were all about" but "we saw what love there was for The Beatles" and "I'll always feel grateful they turned out to be peaceful people."15

Bruce's friend Sam lived near Topping, who asked if Sam wanted to go see The Beatles. "That's how we wound up with such good seats," Bruce said. Tickets were priced from $3.50 to $5.5016 which in 2009 dollars equals a range of $24.00 to $38.00.

Marlene, a friend of Lenore's older sister, was already out of high school and employed by the Marine Bank when she visited the ticket outlet on her lunch hour and found Topping besieged by telephone calls. Recalled Lenore, "He asked Marlene if she would help for a few minutes and she was glad to answer the phones for him. Maybe that's how we wound up with front row seats."



Opening acts



The Milwaukee concert was scheduled to begin at 8:00 p.m. with four opening acts: The Exciters, Jackie DeShannon, the Righteous Brothers, and the Bill Black Combo. However, a few days before, Clarence Frogman Henry replaced the Righteous Brothers on the bill.17



News conference



Prior to the concert, Harrison, McCartney, and Starr gave a press conference hosted by Barry. Lennon, nursing a sore throat and saving himself for the show, wasn't present.

When a reporter asked whether they were aware of Milwaukee prior to the gig, Starr replied quickly in his Liverpool accent, "I've 'eard of the beer that made it famous!" In response to, "Have you gentlemen given any thought to what you will do after the bubble bursts?" Harrison riposted, "Ice hockey" and McCartney, "Ringo originally wanted to own a string of hair-dressing salons."

Another reporter queried, "Do you yearn for a good haircut?" Harrison said, "No, thank you," and Starr, "Do you?"18



Showing the proclivity to question authority that was part of the band's persona, there is sharp criticism of the Milwaukee Police, then led by Harold Breier who became chief earlier that year on March 17.19

The Beatles were unhappy because they said after landing at Mitchell Field, police forced them to leave the airport for their hotel through an out-of-the-way gate, bypassing the hundreds of fans who had assembled near the main exit:20



Reporter:

"We have been told by the police department here that the decision to land where you did was made by your manager in the air."





McCartney (big groan):

"Naughty police."





Unidentified Beatles Staffer

(possibly Derek Taylor, the group's long-time press contact)

:

"Whenever possible and even when it's almost impossible, The Beatles would always rather land in front of the terminal and be met by the kids who have been decent enough to come there. We never ever make the decision ourselves in midair or on the ground to avoid the fans. Ever."





McCartney:

"And actually we were told as soon as we got on the ground today. One of the men from the agency came on board and said the police had said this. So we sent him back again. Go and ask the police chief again if we can just at least drive past the fans, you know, in the car, which is the least we can do. And again they told us, no. And he's a dirty, lying policeman who told you that."





Coach House Motor Inn



The news conference was held at the Coach House Motor Inn, where the band and its entourage were staying. Completed just a few years before The Beatles' visit, the seven-story hotel stood at 1926 W. Wisconsin Avenue, not far from the center of the city. Today it's a dormitory. Glendale, Wisconsin, architect Sheldon Segel, who received his training at the Illinois Institute of Technology, gave the structure a modern look.

Accommodations for The Beatles were centered around a suite on the seventh floor.21 "It was a large space across the Wisconsin Avenue front of the building," said Segel, "with two bedrooms—each with a double bed—and views to the east, south, and west."



Concert reviews



"On Friday night at the arena, The Beatles took the stage at 9:10 p.m.," wrote Gerald Kloss of

the Milwaukee Journal

in a review that was published on September 5.22 They opened with "I Saw Her Standing There."

Kloss referred to them as "bushy haired intruders from Liverpool" and continued, "So here they were at last, almost within falling dandruff distance and they looked even more cuddly than they had on the Ed Sullivan TV shows."23

According to Kloss, they also performed "All My Loving," "A Hard Day's Night," "Long, Tall Sally," and "Can't Buy Me Love" although he incorrectly listed the song as "Don't Buy Me Love." Kloss noted, "They played and sang for 30 minutes and occasionally a zealous honk from the bass guitar or a snatch of vocal harmony would penetrate the din from the enraptured audience."24



Milwaukee Sentinel

reviewer Bernice Buresh also used the wrong contraction and listed "Don't Buy Me Love." Possibly both reviewers were working from an erroneous press release. More of her observations:25



"Surely the Arena rafters trembled as the long haired singers moved through lines of police up to the stage. How loud can screams be and still not surpass the volume humans can tolerate?





"Flashbulbs exploded from so many parts of the jammed Arena, it momentarily was brighter than daylight. The glare could be likened to that seen on films accompanying a nuclear explosion.





"McCartney Friday seemed to be telling the girls that they could clap...he could not be heard but he was understood.





"The girls got a little of everything. John Lennon threw in some hilariously funny gestures and certainly didn't look sick...George Harrison blinked his long eyelashes. Ringo Starr, perched behind his drums, got to sing, which delighted everyone."





On the road



Not reported by the press and little known at the time was that The Beatles were regular users of amphetamines. This was revealed by Beatles insider Peter Brown who was immortalized in the 1969 Lennon-McCartney composition "The Ballad of John and Yoko" ("Peter Brown called to say, you can make it okay...") and later wrote a book about his experiences titled

The Love You Make

.

Referring to the 1964 American tour, which began on August 19 and ended on September 20,26 he disclosed:



"Speed of every strength and formula was now a necessity for the boys and Brian (Epstein, The Beatles' manager) to keep up with the rigorous schedule. A large supply of these pills was brought with them from England..."

27

During the stop in Indianapolis, the tour date just before Milwaukee, Brown wrote that Ringo Starr had been "up for three days without any sleep."28



Beatles central


Barry visited the The Beatles on Saturday at the Coach House Inn, before they left for their next concert in Chicago, but wasn't sure which rooms they slept in—

or if they slept

. He was there to be photographed with the group:



"When I got to the seventh floor, the four of them were in one room. It had a single bed that was covered with food, clothes, etc., and it looked like they might have had a pillow fight. We were going to do the interview and take the pictures in that room until one of their entourage said we should move to another unoccupied room down the hall to take the pictures because their room was a mess."





Morale boost


The Beatles swept out of town later that afternoon but only after McCartney phoned a 14-year-old girl named Christine Cutler,* who was a patient at St. Francis Hospital. She had a ticket to the show but at the last minute couldn't go because she became "very sick." One of her physicians called the

the Milwaukee Journal

in an attempt to arrange a contact from her favorite Beatle. McCartney agreed to make the call and reached her at 2:30 on Saturday afternoon. They chatted for several minutes and then he said, "Well, now, I've got to hang up, you see. But you will smile, though. That's the main thing, you know." Later

the Milwaukee Journal

reported the girl, "wanted to take the telephone home with her. And then the nurses cried."29

Afterwards The Beatles and their entourage loaded into four black limousines and were escorted to Mitchell Field by 10 motorcycles.30 Their visit to Milwaukee lasted about 24 hours.



Jackie was there as they left the Coach House Inn, managed to jump onto the trunk lid of the one of their limos, and pounded on the rear window. "Ringo looked back at me and just smiled and I fell off and hurt my leg," she said at the time to a reporter.31 Reminded of the story, she reflected, "Ah, to be young again! My life was so simple back then."

Shortly after the concert, Bill purchased a collarless, iridescent-blue Beatles coat at Johnny Walkers on Wisconsin Avenue. "I really don't know what happened with The Beatles," he mused, "what made them such a sensation. I guess in the wake of the Kennedy assassination, they were around to pick up the pieces and get us started again with a bright new sound and look."

Lenore reflected on The Beatles success, "Everything that was innocent was shattered with the death of Kennedy," she said, "and all of a sudden, The Beatles come along and made us happy again. It was fun music! When the concert was over, we were breathless!"

In the end, Bruce said he ranks seeing The Beatles in Milwaukee up there with watching the Green Bay Packers play under Vince Lombardi.

Stratospheric

.

Although The Beatles received just one penny per double-sided record sold under their original contract,32 by the time they appeared in Milwaukee, each was a millionaire many times over from concert income and merchandise tie-ins such as the Fab Four pins, sweatshirts, photos, and other collectibles that accompanied their rocket ride at the toppermost of the poppermost.


The Beatles would take pop music into unusual territory with each new album until the band's

official

breakup when McCartney released his first solo effort,

McCartney

, on April 10, 1970. Just prior to the record's debut, he called Lennon and reportedly said, "I'm doing what you and Yoko are doing and putting out an album. And I'm leaving the group, too."33

Their popularity and profound affect on culture hardly missed a beat. Each launched a successful solo career and Beatles albums continued to sell well and sell well even now. The online version of the

LA Times

reported on April 8, 2009, that, "Since Nielsen SoundScan began tracking retail sales in 1991, more than 57 million Beatles albums have sold in the U.S. In 2008, 1.4 million copies were sold."34

Each of the three

Anthology

albums released in the mid-1990s reached Number 1 on the Billboard 200 and the

Love

album, released in 2005, climbed to Number 4.35

Lennon was murdered in 1980 and cancer took Harrison in 2001, but 45 years after the Milwaukee appearance, the bubble remains intact.



* * *


*Christine recovered and is living in Watonga, Oklahoma. Visit

Christy

for more about her and her phone call from McCartney.

Sidebars


1

The Beatles

, Hunter Davies 1968 page 132.
2

The Beatles: 10 Years That Shook the World

.
London: Dorling Kindersley. p. 123.
3

Variety

235, August 12, 1964.
4

Can't Buy Me Love

, Jonathan Gould, Page 123.
5

The Milwaukee Journal

, September 3, 1964.
6 http://www.dollartimes.com/calculators/inflation.htm
7 http://www.45-rpm.org.uk/dirb/beatles.htm.
8

Journal Sentinel

, July 20, 2000.
9 http://www.beatlesebooks.com/secret.
10

The Milwaukee Journal

September 5, 1964.
11 http://www.nonviolentworm.org/Milwaukee14Today/
NickTopping
12

Can't Buy Me Love

, Jonathan Gould, Page 196.
13 http://www.jsonline.com/news/obituaries/29310144.html
14 http://www.uwm.edu/Libraries/arch/nhd2005/htm/
vietnam.htm
15 http://www.jsonline.com/news/obituaries/29310144.html
16 http://www.rarebeatles.com/photopg7/mw9464.htm
17 http://www.triumphpc.com/mersey-beat/archives/beatles-
philadelphia.shtml


18

Recording of the press conference, Bob Barry.

19

Milwaukee Police Department Annual Report 1964.

20

Recording of the press conference, Bob Barry.

21

The Milwaukee Journal

, September 6, 1964.

22

The Milwaukee Journal

, September 5, 1964.

23

Ibid.

24

Ibid.

25

The Milwaukee Sentinel

, September 5, 1964.

26

http://www.beatles.ws/1964.htm

27

The Love You Make

, 1983 McGraw Hill New York page 153.

28

Ibid.

29

The Milwaukee Journal

, September 6, 1964.

30

The Milwaukee Journal

, September 4, 1964.

31

Ibid.

32

Can't Buy Me Love

, Page 123.

33

John Lennon, The Life

. Phillip Norman. 2008.

34

http://www.latimes.com/entertainment/la-et-beatles8-

2009apr08,0,242705.story


35

http://www.billboard.com/bbcom/retrieve_chart_history.do?model.chart

FormatGroupName=Albums&model.vnuArtistId=4057&model.vnuAlbumId=2258




* * *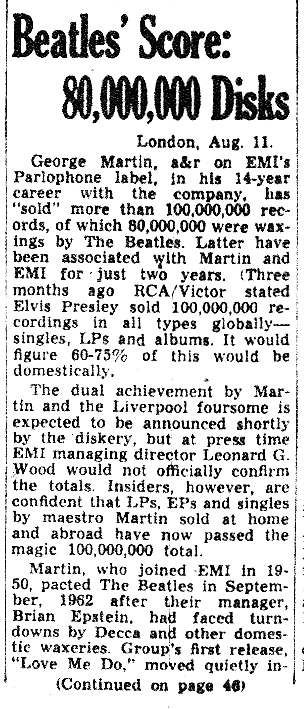 Variety

August 12, 1964.
Courtesy of Variety.





Click for larger image.
Courtesy of beatlestix.com.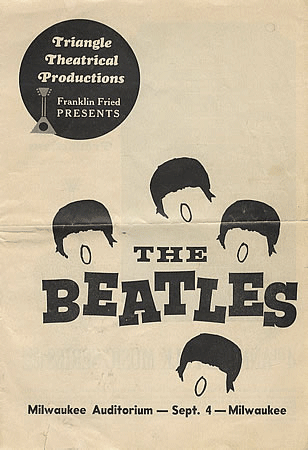 Courtesy of www.991.com.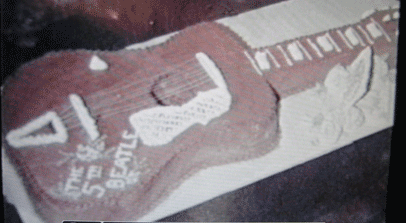 Jackie and her friends had this cake
baked for The Beatles and Bob Barry.
Courtesy of Bob Barry.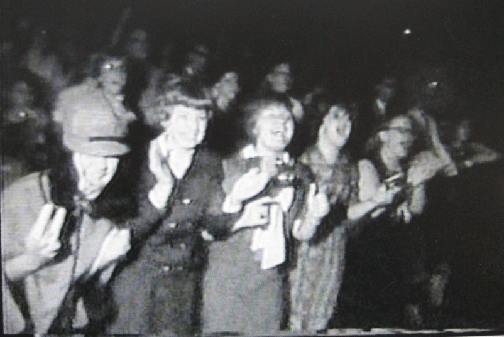 Lenore in plaid dress with sisters and friends
at The Beatles concert in Milwaukee.
Courtesy of Bob Barry.

The above frame was taken from a film
produced by WTMJ-TV, Channel 4.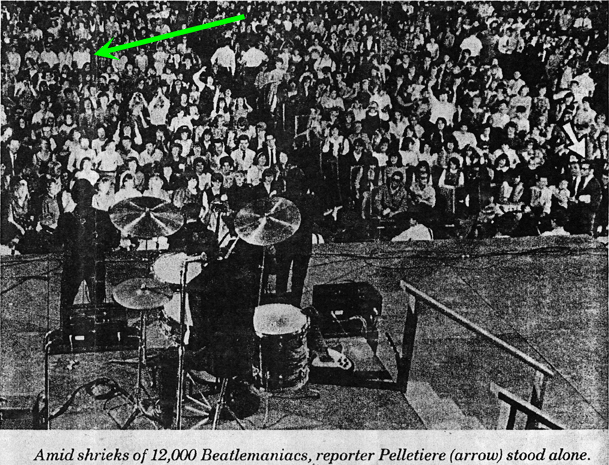 Green arrow points to Bruce
at the Milwaukee show.
Courtesty of the Milwaukee Journal Sentinel.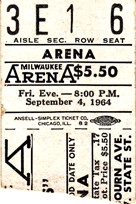 Scan of Bruce's Beatles show ticket stub;
he has protected it for more than 45 years.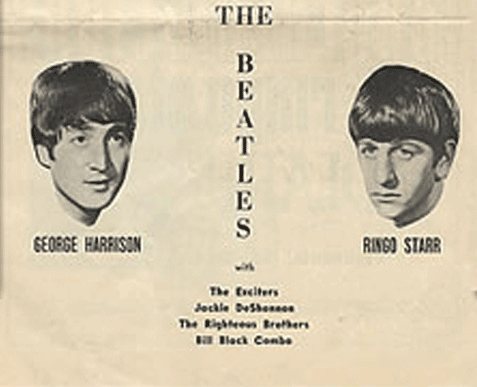 Milwaukee opening
acts (with a major mistake).
Courtesy of www.991.com.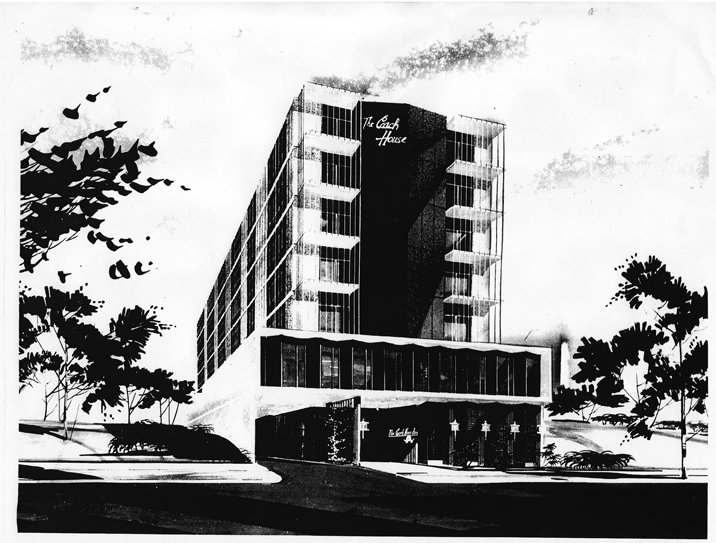 Drawing of the Coach House Inn circa 1962.
Courtesy of the Milwaukee Public Library photo collection.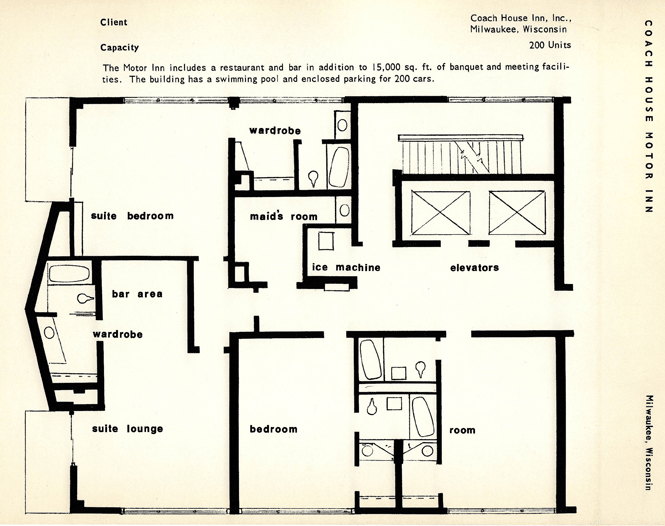 Floorplan of a Coach House Inn suite.
Courtesy of Architect Sheldon Segel.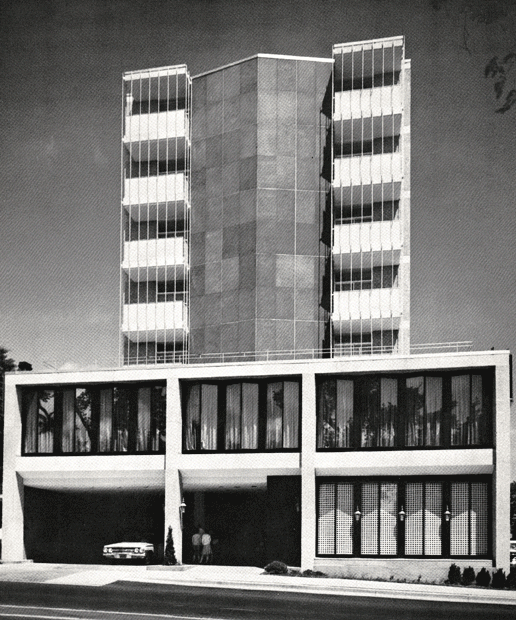 Coach House Inn.
Courtesy of Architect Sheldon Segel.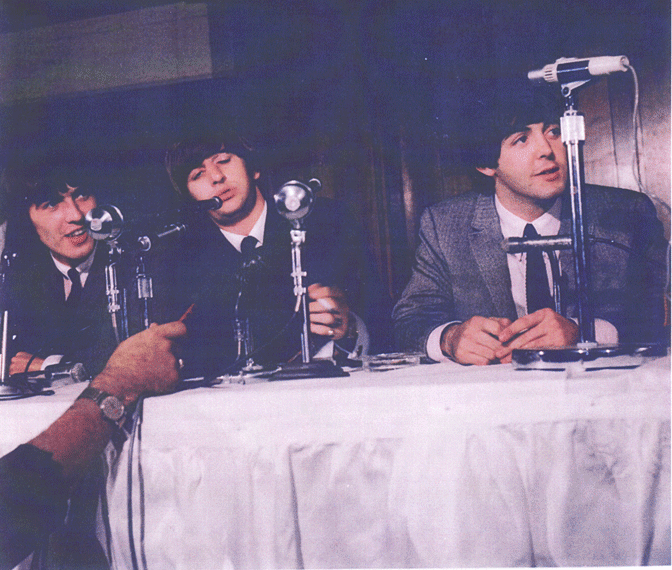 Coach House Inn news conference; Lennon
couldn't attend because of a sore throat.
Courtesy of Bob Barry.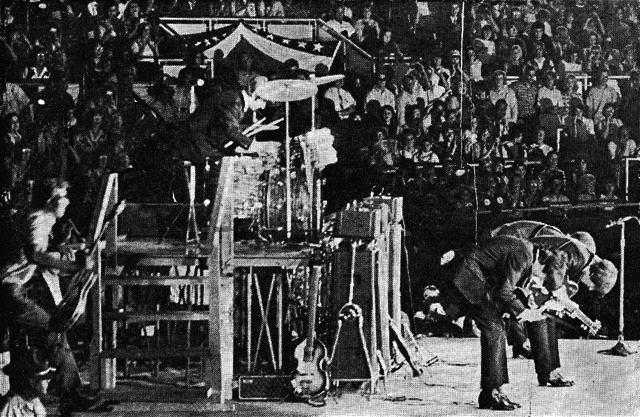 The Beatles in Indianapolis the
night before their Milwaukee appearance.
Photographer unknown.*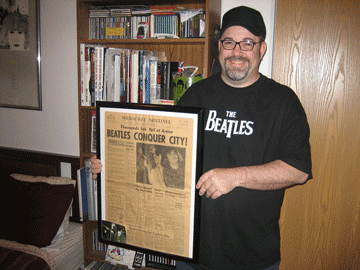 Collector Mike Mastauskas with a

Milwaukee


Sentinel front page from September 5, 1964.
Click for larger image.
©Ted Schaar 2009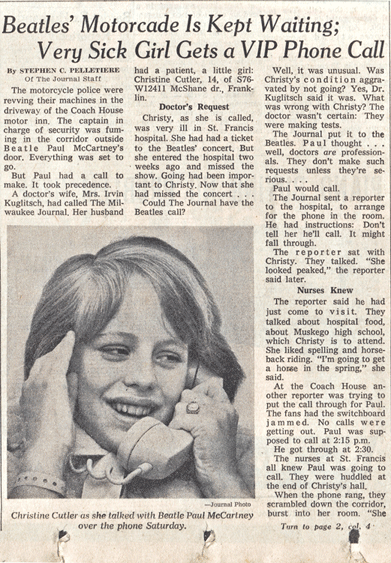 The Milwaukee Journal

, September 6, 1964.
Courtesty of the Milwaukee Journal Sentinel. (Scan of a copy of the
actual paper that Bruce has preserved since 1964.)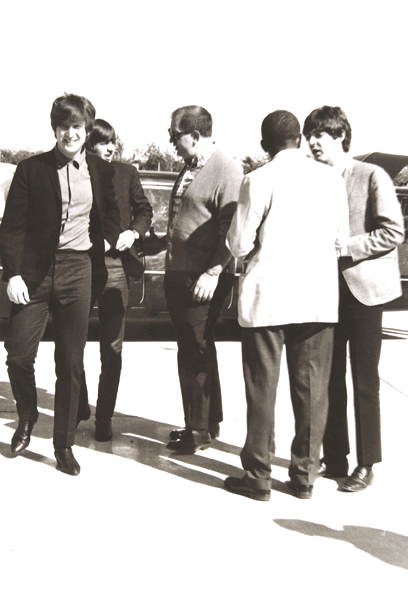 Mitchell Field tarmac, September 5, 1964.
Courtesy of Kim S. Collis, photographer unknown.*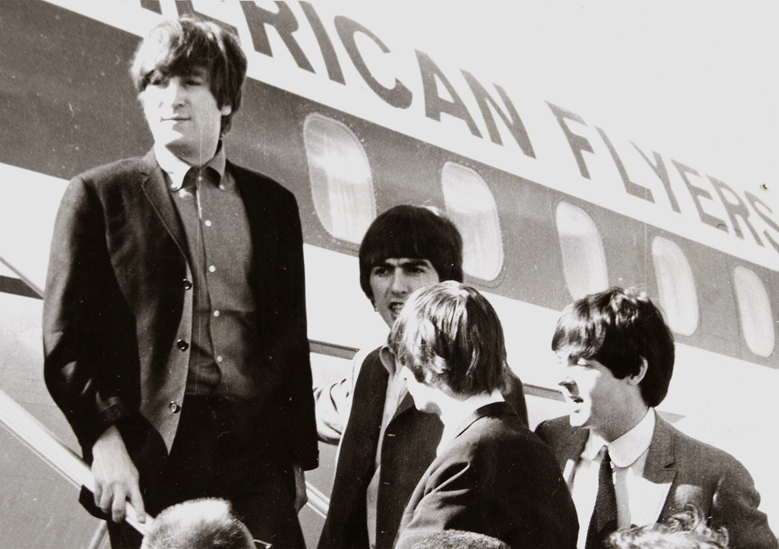 Boarding the plane at Mitchell Field.
Courtesy of Kim S. Collis, photographer unknown.*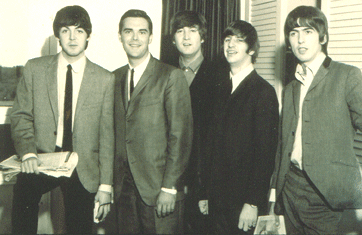 Taken September 5, 1964. Courtesy of Bob Barry.



Note

:

If you attended The Beatles' Milwaukee show
or have photos—especially candid, fan shots—or other
memorabilia of The Beatles in Milwaukee, please
send an e-mail. I'd like to add more images and
remembrances to the story.



Many thanks

to the many individuls and
organizations that are named in the article and sidebars
for their help in researching this unique Milwaukee event
and securing permissions to use images.

And

thank you

Jim and Tom for your connection to
Bob Barry, Karen for being married to Bill, Sandy for
your introduction to Lenore, Fletcher for helping me
find John, and

the Shepherd Express

for
connections to Bruce, Mike, and others that
resulted from a January 2009 classified ad.


Special thanks to Bob Barry

who
answered every question cheerfully.


*When a substantial search failed to identify who

took a photograph that was in a private collection

or bouncing around the Web, the image is

labeled "photographer unknown." If you

know the photographer, please

contact me

,

and I will seek permission

and post the proper credit.

New Schaar Beatles Story:

"Beatles Encounters 1965: Unplanned & Planned."

This artcle begins with Henry M. Hilton, a Wauwatosa man, who sat one row behind The Beatles during their TWA flight to New

York on August 13, 1965, to begin their North American Tour and ends after they met

Elvis Presley two weeks later.

Beatles Links