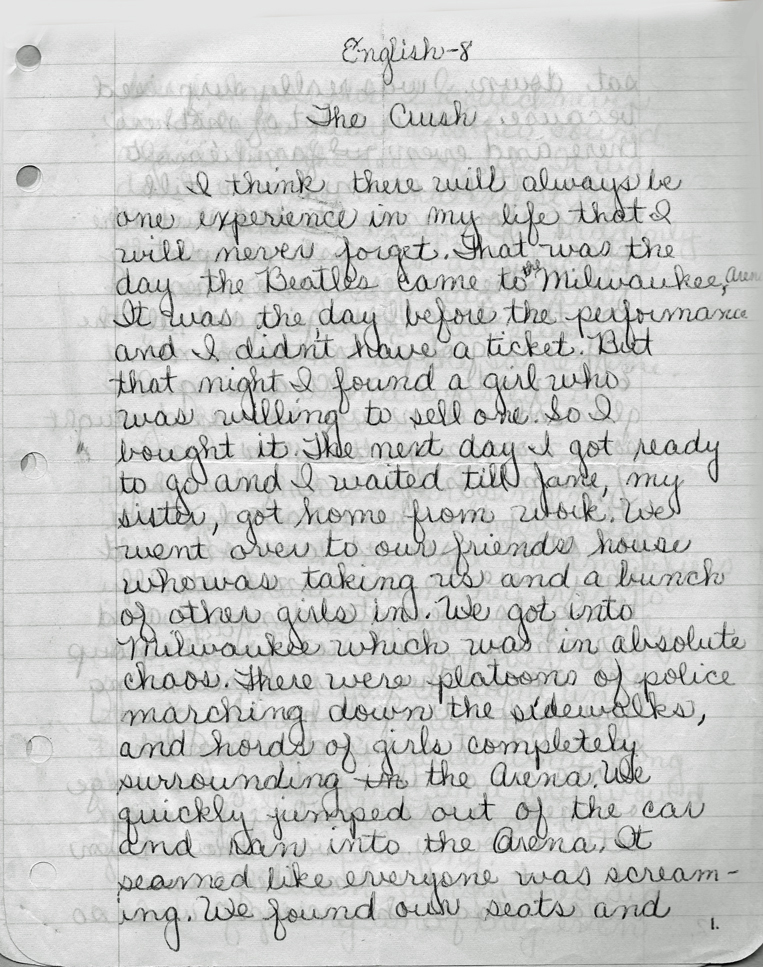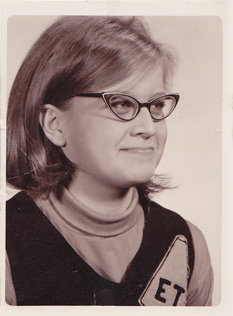 Heidi, 1964, about time she attended The Beatles concert.
She's wearing her East Troy, Wisconsin, cheerleading outfit.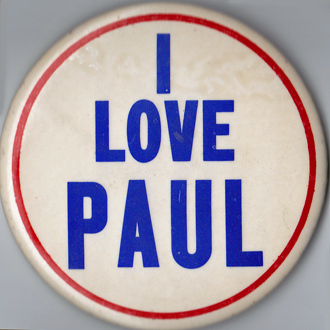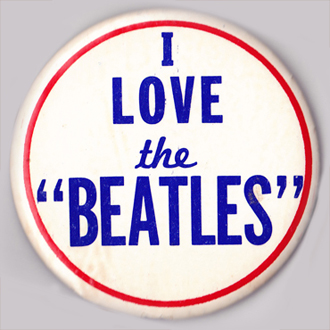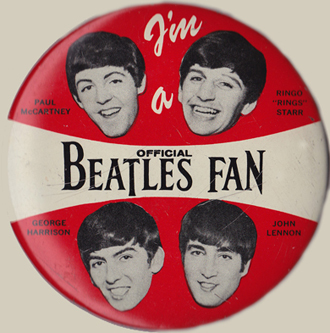 Buttons Heidi purchased during Beatlemania--it's been a half
century and she can't remember where she bought them.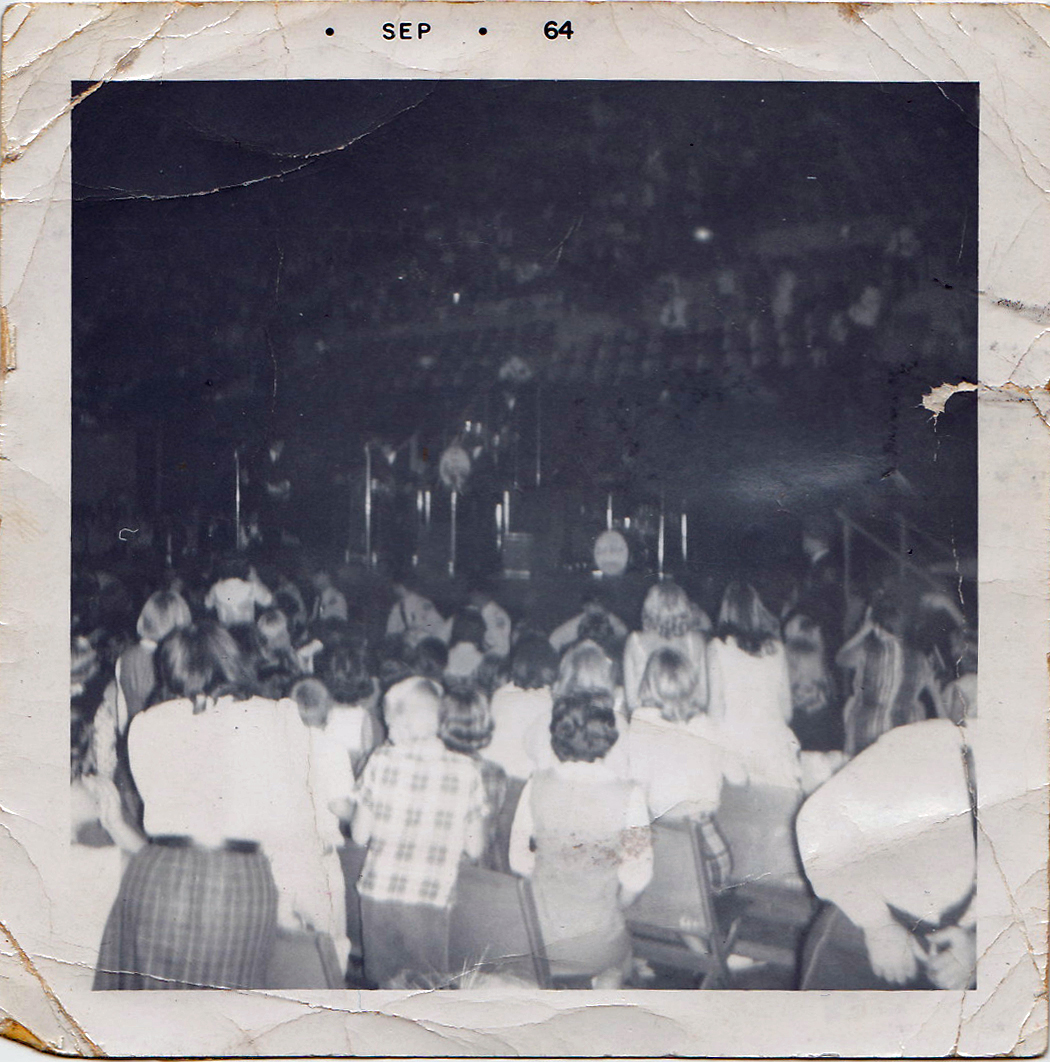 Many who attended the Milwaukee Beatles concert recalled that the Arena was lighted by continual photo flashes, but this
image from Heidi's scrapbook is the only snapshot of the show I've seen. Left-handed Paul appears to be on the left; I'm
guessing George is in the center and John on the right. Ringo is barely visible behind his drum kit on a riser. Heidi
thinks the photo was given to her by a friend but she's not sure which one.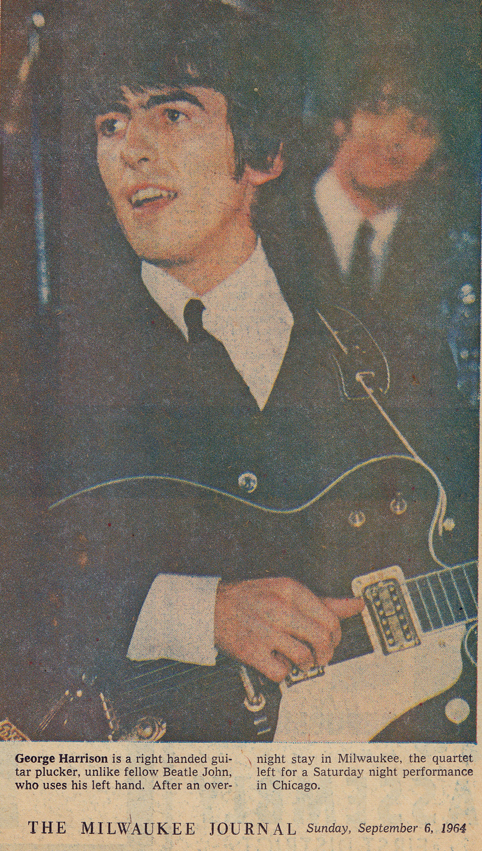 There are indications of the newness of The Beatles to "grownup" reporters and pop music itself in this
article published two days after the Milwaukee concert. "Plucker" is used to describe a guitarist when
"picker" is more appropriate; it is also implied that John was left-handed when the opposite was true.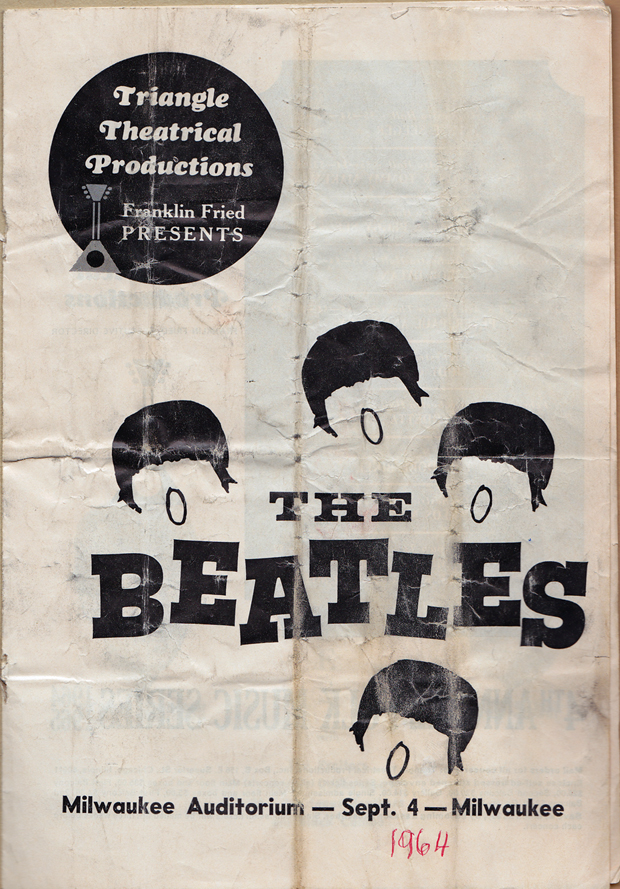 Front cover of Heidi's original program for the Milwaukee Beatles concert.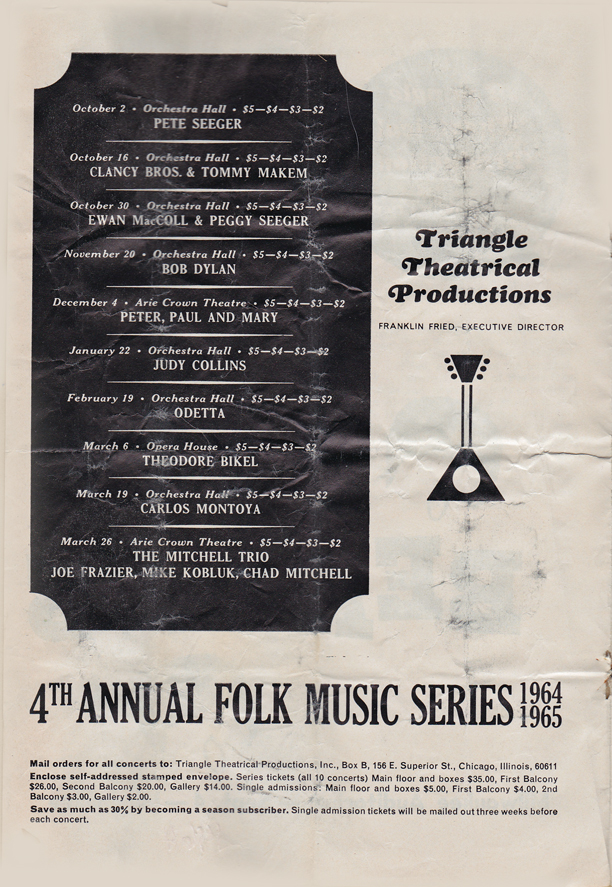 Inside front cover.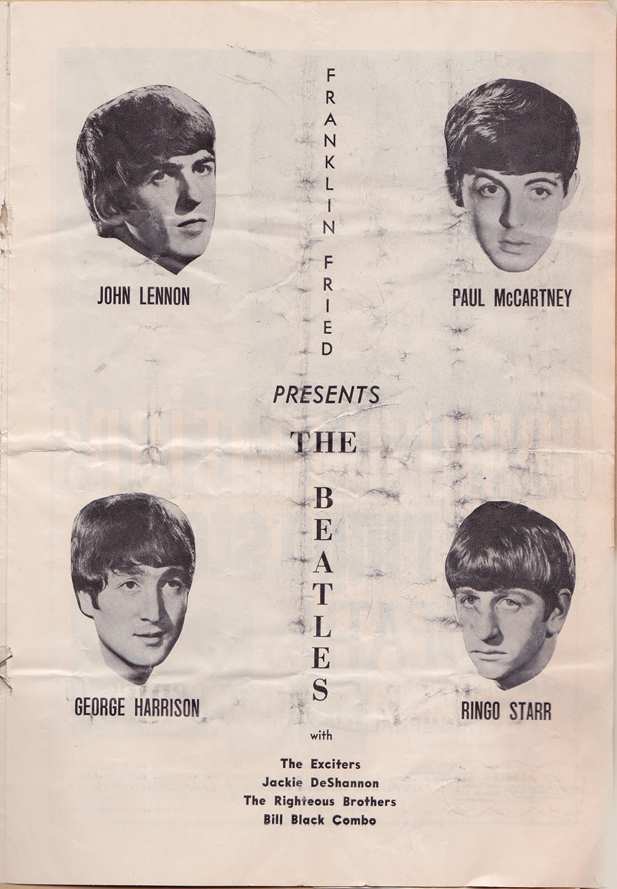 Page 1 with a major mistake recognized by far fewer then than now.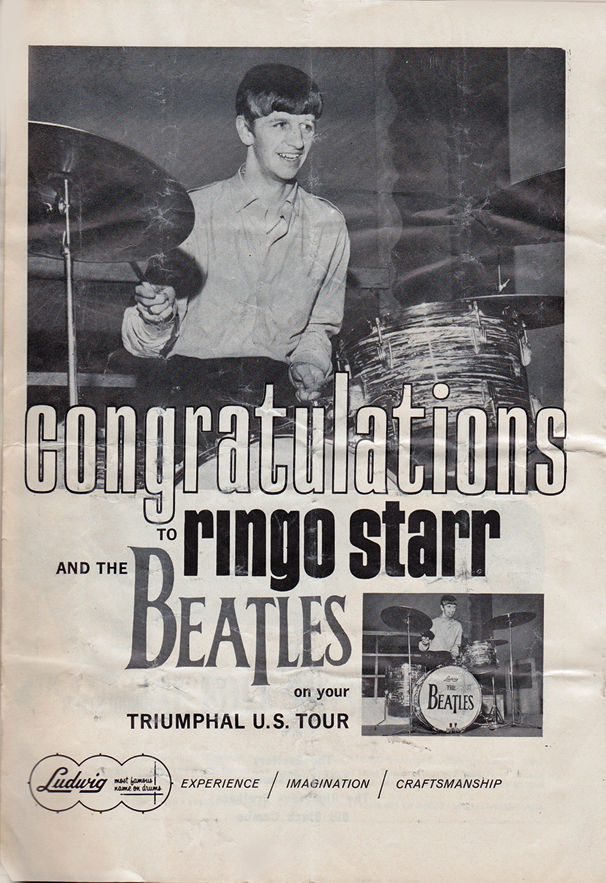 Page 2.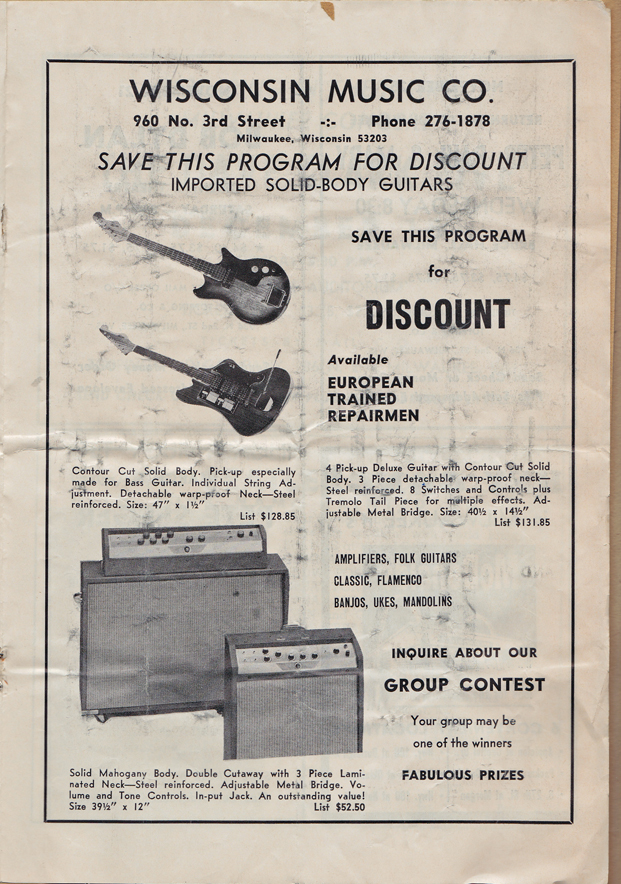 Page 3.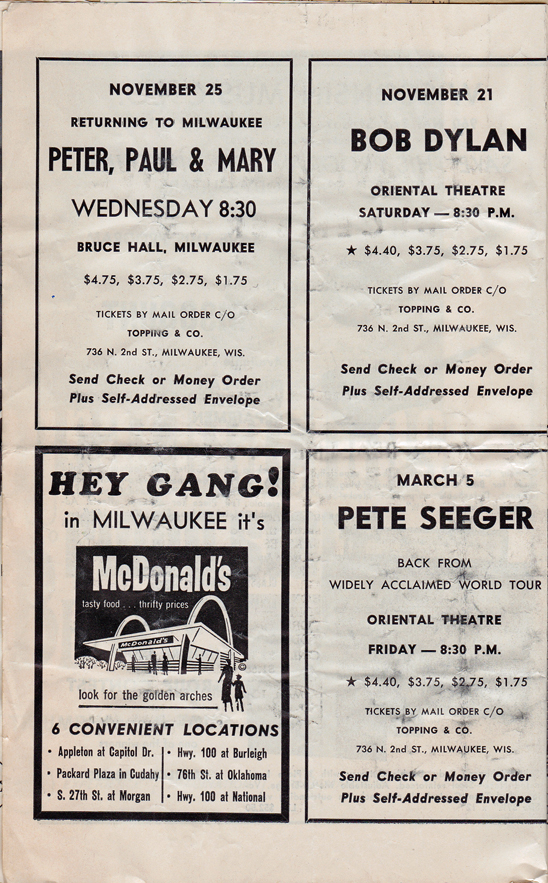 Page 4. ads for folk singers underscore the fact that Nick Topping normally didn't
promote rock and roll acts. (In case you're wondering, there are now
29 McDonald's in Milwaukee alone.*)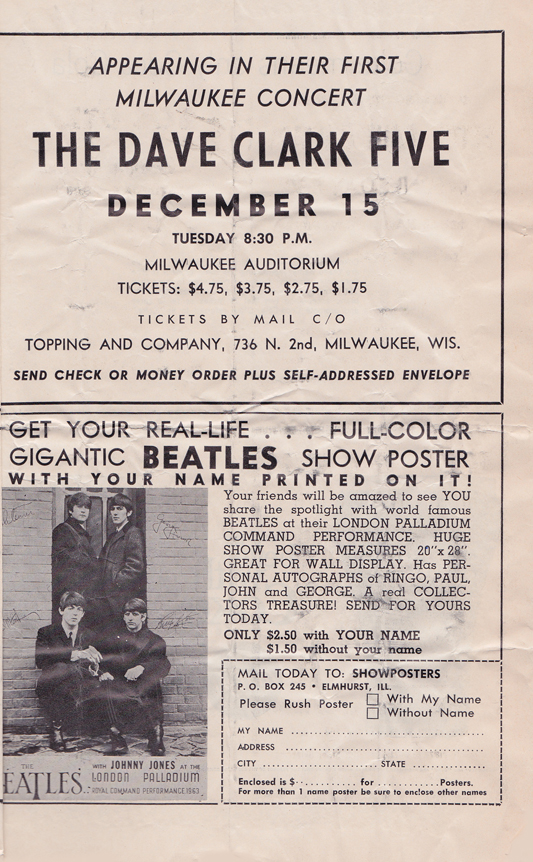 The photo on the lower half of the inside back cover (above) places names with the right faces, but clearly this wasn't apprehended by the layout artist who did page 1.
To learn more about the advertised Dave Clark Five concert, I reviewed
The Milwaukee Journal
and
Sentinel's
December 16, 1964, editions (they were separate papers at the time). December 15, 1964, happened to be Clark's 22nd birthday which makes him 71 as I type this.
Michael H. Drew wrote the Journal recap titled
"Fewer Fans Greet Dave Clark"
, which references an earlier DC5 show at Devine's Million Dollar Ballroom (now The Rave and Eagle's Club) at 2401 Wisconsin Avenue. Drew writes that "about 11,000 fans staged a near riot" at the June 7, 1964, concert, indicating the headline "Appearing in their first Milwaukee Concert" in the ad is wrong.
Not one word written by Drew, ever the jazz snob, compliments the performers or says anything positive about their fans. He refers to "drummer Clark's two-fisted whacking," and concludes: "Every now and then, a bit of lyric, would penetrate the din."
The
Sentinel's
take
"Dave Clark Birthday Fete"
, written by Bernice Buresh, is friendlier than the
Journal's,
but she tends to couple positives with negatives: "The quintet members are neater, more articulate, and musically more enjoyable than most rock 'n' roll types who are scrambling to get to the top of the hit parade." Probably she could identify with the concluding sentiment. Successful reporters--like just about anyone aspiring to make it in a hard-knocks world--do plenty of scrambling, too.
* http://www.mystore411.com/store/list_city/17/Wisconsin/Milwaukee/McDonald