Brookfield's Hidden Lake

©2012 Ted Schaar

Brookfield has many ponds and a few small lakes, including artificial Arrowhead, which--oddly--is at slightly higher elevation than a section of Bradee Road, directly to its east. Most of these bodies of water are well known but perhaps the most beautiful is so well shielded by steep ridges and foliage, few residents have seen it.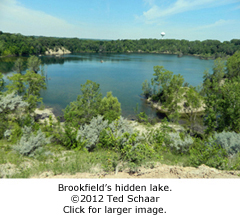 For many years, this hidden lake and its surroundings were the site of a sand and gravel operation called successively the Cleveland Pit, Burleigh Pit, State Gravel Pit, and finally Richardson Pit. The lake's location southeast of the Lilly-Burleigh intersection, not far from Brookfield East High School, makes it a popular place for students to get away from it all, in a scenic setting, far from parental eyes.


A woman named Shelley, who grew up in Brookfield and now works at a local food store, said she and her friends called the lake Split Rock Quarry. However, when I referred to it as a quarry during an interview with Jim Dawson, chief financial officer of Lannon Stone Products, Inc., Lannon, he quickly corrected me: "Sand and gravel operations are called

pits

; places that extract hard rock such as limestone are quarries."

Retired physician John Kelly, who has lived near the lake since 1978, identified the source of the name Shelley and her friends used when he mentioned there once was a company located on Burleigh Road near the pit called Split Rock Products. It produced manufactured stone, also known as cultured stone, that is made by crushing gravel; adding sand, water, a cementitious binder, and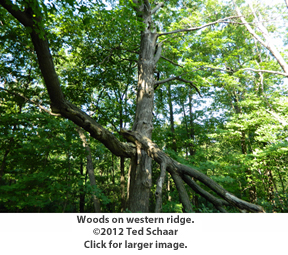 sometimes dyes; and placing the mixture in molds to dry. Uniform building blocks result. Dr. Kelly said a number of Brookfield and Wauwatosa homes are clad in the material. (Coincidentally, when a contact I interviewed for another Brookfield story reviewed a draft of this article, he mentioned the Brookfield home he and his wife had built in 1962 features the material and allowed me to take the accompanying photographs.)

Ingrid Regal, whose family owns Regal Crest Village Apartments near the former sand and gravel pit and who plays a role in developments involving the property that occurred in 2013, told me the building at 13160 West Burleigh Road once housed Split Rock Products' offices. Today, it is occupied by Nackers & Associates and several other businesses. The structure is visible in a 1963 aerial view of the area that is available on the Waukesha County website.1 A similar aerial photograph from 1950 shows a vacant lot, so it was built in the 50s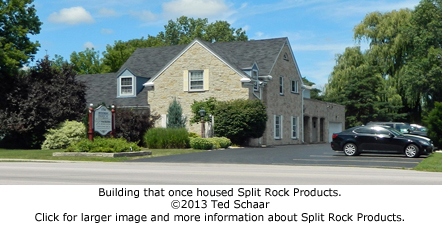 or early 60s. The only houses in the 1950 view are on Lilly Road and Fiebrantz Drive located to the northwest and on the roads such as 130th that are south or west of Center Street. Some of these residences are also visible in an aerial view of the area taken in 1941.



Current owners



Until recently, the 70-acre pit and its 23-acre lake were owned by SCI Real Estate--formerly Sileno Companies--which purchased the property in 1980 from the Ruth Porter Trust. The current owner is Quarry Group Joint Venture, as noted in the signature block of a February 2011 letter James Sileno sent to Dan Ertl, director, City of Brookfield Department of Community Development. (Attempts to contact Sileno for an interview were unsuccessful.)



SCUBA report



Underwater Connections, a Menomonee Falls-based diving and recovery company, conducted "two days of observations" of the lake on October 19 and 20, 1990, and included the following in a summary of its findings dated October 21 of that year: "Contours of the quarry are somewhat consistent. There is a 'trough' running diagonally across...The depth varies from seven to 21 feet. Conjecture would be that this was excavated by machine...The quarry floor, other than in the trough, has a depth from shore to shore of one to seven feet...Fish and marine life are very minimal. During the entire two days of diving, only two fish were seen. These were not identifiable as the encounters were too brief. Numerous crayfish were observed...'Very sparse' would be the best way to describe marine life." (Note: This report and others mentioned in the story were provided by Bill Kolstad, director of Parks, Recreation & Forestry, City of Brookfield.)


An August 1993 report by Howard, Needles, Tammen, & Bergendoff Company, a civil engineering, architecture, planning and construction management firm with a Milwaukee office stated: "...there are no tributary areas forming a watershed feeding the present [pit] lake. All water in the lake is from groundwater seepage and runoff from the area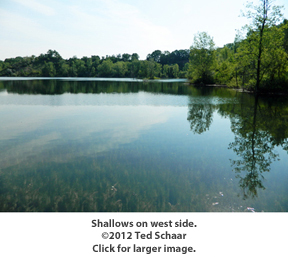 inside the [pit] walls...Testing performed on random water samples...revealed the lake is acceptable for swimming and other related recreational activity...Low levels of fecal coliform, pesticides, phosphorus, and suspended solids indicate that the lake indeed receives little, if any runoff from adjacent property, and that there are no septic systems in the area affecting water quality...The lake clarity is excellent and it appears to be a viable ecosystem."

Two HNTB personnel who ventured out on the lake in a canoe reported, "Numerous small bluegills from 3" to 8" were observed in the northeast shallows and where weeds were established. One larger fish, possibly a bass, was observed in the same area...We heard frogs but didn't see any."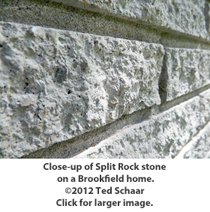 Planted



Benjamin Heussner, fisheries biologist, at the Wisconsin Department of Natural Resources Service Center in Waukesha, said, "Most likely any marine species in the lake were transported there by people." The possibility that the sticky eggs of amphibians, crustaceans, fish, and other creatures adhered to birds wading in a natural lake or stream who then visited the pit lake and deposited them is "highly unlikely over short time spans," he added.


Presumably sand and gravel deposits at the site were discovered when the plows of settlers turned over more than topsoil and clay. Chris Larson, a third-generation pit operator who is the president of Wissota Sand and Gravel said, "Deposits typically begin 18 inches to six feet below the topsoil, but sometimes they poke through the surface."

According to Joe Leonard, a retired City of Brookfield employee, "Adelmorn Cleveland started the gravel pit," although he didn't know exactly when. It had to be early because long-time owner Grover Cleveland, the son of Adelmorn, "was born there in 1892," Leonard said. By the 1920s, when the growing use of motor vehicles created the need for paved roads, Cleveland began supplying sand and gravel to contractors who used it to make concrete. I located Leonard, now retired in Florida, after seeing his name in a memorandum detailing an interview David A. Rudig, an HNTB engineer, conducted with him in October 1993. Rudig recounted that Leonard told him Cleveland "...and Harry Zervis, along with Ralph Bolster, operated the facility for nearly 40 years."


Before excavation began, the site was a "long, north-south trending hill," the 1993 HNTB report stated. Carol McCartney, outreach manager for the Wisconsin Geological and Natural History Survey,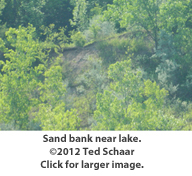 explained, "That is a hill that is longer in the north-south direction than in the east-west direction...In this part of Wisconsin, north-south trending hills are glacial moraines and east-west trending hills are usually drumlins."

Southeastern Wisconsin was shaped by two lobes of the last glacier which is called the Wisconsin Glaciation because detailed studies of it were conducted here first.2 Robert H. Dott, Jr. and John W. Attig in

Roadside Geology of Wisconsin

say that it slid into our state about 26,000 years ago, made it to the Waukesha County area by about 18,000 years ago, and "retreated back to northernmost Wisconsin by about 10,000 years ago."3


Moraines are formed by debris settling out of glacial melt waters. This particular mound of sand and gravel was deposited by the Lake Michigan Lobe that came from the east, McCartney said. "Water running off the melting glacier deposited gravel when moving fast, sand if a little slower, and finally clay." Moraines are "important to geologists," Attig and Dott noted, "because they mark places where the margin of the glacier stood for some time. For example, the maximum extent of the Laurentide Ice Sheet in Wisconsin is marked by a moraine ridge and a broad zone up to 10 or more miles wide of hummocky topography where piles of debris-rich ice melted."4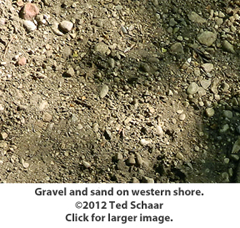 This description hit home because of a vacation my family spent in Florida's Everglades National Park. There, low hills called hummocks stand above marshy areas and are no less important to the area's flora and fauna. Although the forces that shaped Florida and Wisconsin are radically different, Brookfield has always reminded me of the Everglades in the sense that it is a combination of wetlands, streams, and higher ground. Earlier in its history, poor zoning permitted homes to be built in places so low-lying they continually flooded. One residence not far from ours was erected in a filled-in stream bed near the intersection of Pilgrim Road and Neuberry Court. After repeated inundations, it was purchased by the City of Brookfield and razed.

Could most of the hills in Brookfield be moraines? Larson said yes, explaining: "There is tremendous amount of sand and gravel in the area. I'd say nearly all of the mounds and high areas between Waukesha and Allenton, are moraines that were deposited by the last glacier." Asked how much of the sand and gravel in this part of the state has been excavated, Larson said, "five percent."


Looking out my window in a Brookfield ranch situated on top of what is probably another moraine, it's easy to daydream back to a time when the towering front of a glacier was retreating to the east and depositing the sand and gravel that produced the mound later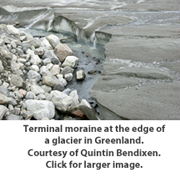 excavated to form the pit and lake. "The glacier would have been one to two miles high and as wide as the eye could see, looming over what is now the Lake Michigan basin," said Quintin Bendixen, an associate lecturer in the Department of Geography/Geology at the University of Wisconsin-Waukesha. Bendixen, a native of New Berlin, which is just south of Brookfield, is working on his PhD at UW-Milwaukee. "Temperatures would have been well below zero year around," he continued, "and the glacier would have had a crumbly front composed of great masses of ice, with rocks, gravel, sand, and silt mixed in. Successive advances and retreats of the ice ultimately created Lake Michigan itself."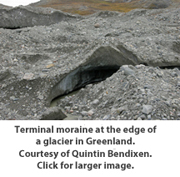 McCartney consulted a United States Geological Survey topographic map for the area and estimated that the pre-excavation moraine might have been as high as a "small knob just to the south that is 860 feet above MSL (mean sea level)." She added that "the elevation of the intersection of Burleigh and Lilly Roads is 788 feet, which means the untouched moraine could have originally been 50 to 80 feet higher than the nearby road." Her conclusion is supported by the HNTB report: "The [pit] was cut from the top of a low ridge of high ground that originally ranged from Elev. +840 to +860 MSL...Approximately 6.7 million cubic yards of materials were taken from this site, from 1921 to 1978. Another 1.1 million yards of overburden have been stripped and piled around the active excavation in the form of windrows." These form the steep ridges that hide the lake.



Surprising origin of the pit's sand and gravel


The HNTB report also states that the gravel in the pit "appears to be drift products of hematite- and limonite-bearing rocks from the Upper Peninsula of Michigan having significant iron contents, plus diorites (a gray to dark gray igneous rock) of that region." This means the glacier scraped up materials 200 miles to the north, dragged them to what is now eastern Waukesha County, and released them to form the moraine.



Richardson Sand & Gravel Co., Inc.


The last full-time operators of the pit were Alana and David Richardson. (After her husband's death, Alana remarried and her name is now Phelps.) They leased the site in the early 1960s and eventually established an office on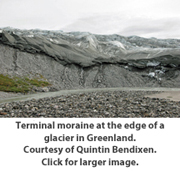 Burleigh. Richardson was from Verona, a town near Madison and Phelps, Belleville, a crossroads village located about 11 miles to Verona's south. He attended UW-Madison for three and one half years, studied architecture, joined the Navy just before World War II, and spent his time in the military stateside teaching "tail gunners how to operate the rear turret on bombers," Phelps said. After the war, he went into the trucking business with his father.

In the middle 1950s, Richardson began delivering materials to contractors building I-94 between Madison and Milwaukee. Huge amounts of aggregate, which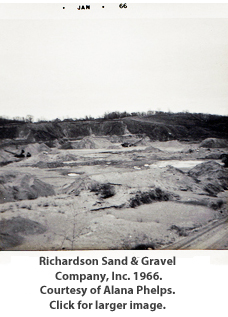 is primarily a mixture of sand and gravel, were needed. "Construction of one mile of four-lane interstate highway, requires 85,000 tons of aggregate," a Michigan State University website points out.5 "David came to understand that the materials he was hauling did not always meet specifications," Phelps said, "and decided he could do better." Around 1962, he learned that the pit on Burleigh Road, then operated by State Sand and Gravel, was available for leasing. "We had $35.00 in the bank but David knew materials and felt that what was there was high grade and he could sell it." Earth-moving equipment manufacturer Caterpillar was impressed by the Richardsons and sold them their first end loader on terms they could afford.

"I was very much against the venture in the first place," Phelps stressed. "David enlisted me to help with the business, and the place didn't even have an office, so I'd have to park my car--I think it was an Oldsmobile--on the road that led out of the pit and record every truck full of material that exited. Drivers would stop and I'd give them a ticket. I was so busy I didn't know if I was coming or going!" Success in the sand and gravel business depends primarily on location, as the Michigan State University website explains: "Construction-grade sand and gravel is a high volume, low-value commodity, and cannot be transported long distances economically. Most commonly, large trucks are used to transport the sand and gravel, and the rule of thumb is that it cannot economically be transported more than 30 miles...Thus, sand and gravel pits must be located near the consumer, and that is why sand and gravel pits are common in large, expanding urban areas."6

The pit the Richardson's operated is a case in point. During the opening months of the company, it supplied sand and gravel to the then-under-construction Penny's Distribution Center, located about one mile to the east on Burleigh at 112th Street. "That was our first major project, and I spent an entire month working out of my car," Phelps said.



She remembered another job was supplying aggregate to the veterans hospital at 50th and National now known as the Clement J. Zablocki Medical Center. Public Affairs Officer Gary Kunich sent a brochure titled "Historic Milwaukee VA" that confirms her recollection: "Construction began in July 1962 and was finished in August 1965. The building was dedicated and occupied in May 1966." Another destination for the pit's output was Lamplighter Subdivision across Burleigh Road to the north. "It was like a swamp over there," Phelps said, "and we'd fill the trucks and they'd go right across the street and dump their loads."

Richardson Sand and Gravel eventually erected a small office on the road into the pit off of Burleigh. "It was on top of the hill as you drove in, on the left side," Phelps said. "A corrugated metal garage large enough to hold three semis was also built." (Snapshots she sent to help illustrate this story were taken from the road into the pit and record views to the south. Other Richardson Sand & Gravel documents and photographs were lost in a fire at their son's home or disposed of when company records stored at her mother's residence were discarded inadvertently.)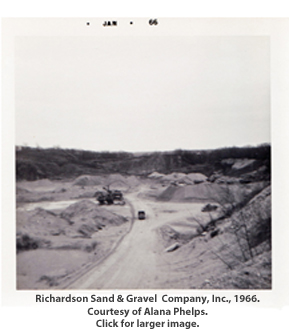 Equipment used by the Richardsons included a dragline for removing overburden, sand, and gravel; a crusher that broke gravel into pea-sized pieces; and a Loraine Loader for depositing materials in dump trucks. "The lake was much smaller than it is today, and sometimes we would scoop material out of the bottom with the dragline and stack it in pyramids to dry," Phelps continued. "As the company grew, four end loaders were acquired for loading and other tasks. The dump trucks that carried material to job sites were leased from independent owner-operators. Some had contracts for three or four different jobs, each with its own specs, so they were loaded in different areas of the pit, which is why we had to add more end loaders."

The couple worked long hours, often arriving by 6:00 a.m. and staying until 10:00 p.m., Monday through Saturday. At its peak, they had 18 people working at the site, but it was a seasonal operation. "We'd shut down just after Christmas, spend our winters in Florida, and not reopen until the first week of April. During our time in Florida, David was a supervisor for a construction firm."

Phelps said Richardson had a talent for geology and was able to spot likely sand and gravel deposits from his car: "One time we were driving along, when he saw one just off of Blue Mound Road. He contacted the property owner, had some tests run, struck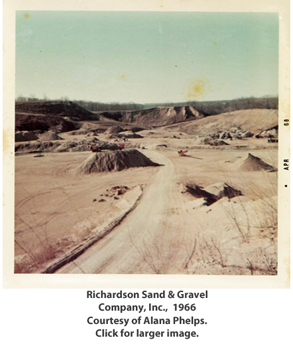 a deal, and wound up removing gravel for two seasons. He then restored the land so you wouldn't know anything was mined there. David was a big believer in restoration, and I was very proud of him. If he cut a tree down, he planted another one. He was an unusual man who was very well liked." He was also a master at meeting contractor specifications, she said: "It was like baking a cake, he'd read the spec, then mix in the right amounts of pebbles, sand, and clay, depending on the purpose." Larson elaborated: "Probably she was referring to mixing up 'base' material, which was used as fill to provide a firm foundation on unstable ground. Clay was often part of the mix in the 60s but isn't used as much today, mainly because the goal is to reduce moisture content in the base, and clay is fairly wet."

Suburban Brookfield continued to grow around the Richardson Pit and greater numbers of homes and residents ultimately led to concerns from neighbors. "David had the idea of turning the site with its growing lake into a recreational area, basically a park, and taking down the hills and slopes. He went door-to-door telling the neighbors about his plan. They were well-pleased but then an ex-employee spread a rumor that the pit was going to be closed and turned into a landfill." It was hard to win back the neighbors after they were told their ranches, colonials, and tri-levels on big, tree-lined lots might soon share the area with a dump.


The Richardsons decided to abandon the Brookfield pit in about 1970, after they found a new sand and gravel deposit on Lannon Road just north of Silver Spring. "It was on a farm owned by a Mr. Dolman," Phelps recalled. "We leased the right to excavate and set up an office; soon we were supplying jobs in the Menomonee Falls area."

In January of 1976, not long after they arrived in Florida for the off-season, a fatal heart attack struck Richardson as he prepared to go fishing. "He had just had a complete physical and received a good bill of health," Phelps said. The house they occupied on Bittersweet Road in Brookfield was sold in 1978, Phelps relocated to Stuart, a community on Florida's Atlantic coast, where she remarried. "A lot of dreams and hard work were factored into our lives in Brookfield," she reflected, "and, as with most people, dreams and hard work are part of what life is all about. They never hurt anyone even though they may never eventuate."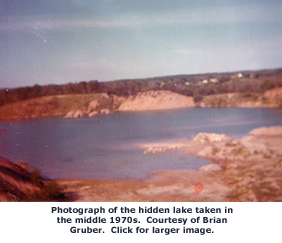 Ex-City of Brookfield employee Leonard told Rudig that the Zignego Construction Company "hauled stone out of the quarry for their highway projects" during the final two years of the pit's operation between 1975 and 1977.


Richardson didn't live to see his idea of converting the site into a recreational area realized, but a similar plan was proposed in 1993 in a document prepared for the city by HNTB titled, "City of Brookfield, Proposed Park Development, Sileno Property." The Project Overview includes: "The City of Brookfield has the opportunity to take title to this property through a donation by the Sileno family." Six phases leading to completion were detailed. When finished, recreational activities would have included fields for soccer and softball, scenic overlooks, play areas for children, and an interpretive trail. Facilities for picnicking, swimming, diving, and fishing would have been available, along with watercraft rentals. Sledding and ice skating were planned for the winter. Cost for the proposed development was in the neighborhood of $4 million, which is equal to approximately $6.3 million in today's dollars.7 Saying that amount "exceeded the public benefit," the city rejected the donation.



New concept



In 2000, a "concept" was presented to the city by the site's owner; it called for building 160 condominiums on the north end of the property. The city stated it would approve the plan only if the developer improved the southeast portion of the site so it could be turned into a neighborhood park. The Quarry Group took no further action.


Eleven years later, Ertl was approached by a representative of the owner and asked if the city was "potentially interested in accepting a donation" of the property. R.A. Smith National, a Brookfield-based engineering firm, was retained by the city to conduct a "study of development potential and possible public use" of the site and to help determine whether the municipality should consider "taking ownership of the property, if offered."

The firm wrote a report indicating two separate but adjacent Quarry Group properties, which it labeled Parcel A and Parcel B, were involved. Parcel A is the former pit and lake; Parcel B is a 15-acre rectangle that begins at the pit's western boundary and ranges out to Lilly Road. The owner's motivation for donating the two parcels, according to the R.A. Smith report was, "to be free from the current tax burden of approximately $31,500 per year." In addition, Ertl said the Quarry Group and its investors hoped the donation would produce tax advantages.


R.A. Smith's planners scaled back considerably what should be done if the site was acquired by the city. Essentially, they recommended turning the former pit into a nature park featuring trails, scenic overlooks, basic rest and information stations, and limited playground equipment. Use of the lake would be restricted to non-motorized craft such as canoes and kayaks. Primary access would be from the north end, off of Burleigh Road--a parking lot near the water tower would accommodate visitors. Secondary access points would be near the intersection of Center Street and 131st Street, where a rustic trail winds up the ridge and leads to the site and from Lilly Road on a new "Woodland Trail Loop" that would lead to the lake.

This approach is similar to what neighbor Dr. Kelly thinks is the best use for the site and what a neighbor of mine, a retired art teacher, prefers. Viewing the lake and surroundings for the first time from the southeast ridge, he proclaimed it a "beautiful place and a real surprise." He thought it should be left "as natural and undisturbed as possible." However, another friend, a retired postal inspector, said the owner should subdivide the land around the lake and sell lots for homes.

All planning ceased in March of 2011 when Jim Sileno sent an e-mail to Ertl withdrawing the offer because one of the Quarry Group's members couldn't "use the deduction from a dedication."


In June, 2013, an e-mail arrived from an individual whose parents live near the hidden lake. It stated that Quarry Group Joint Venture, current owners of the property, proposed selling it to Super Excavators, a company that would "dump roughly two million cubic yards of 'clean fill' from the Zoo Interchange Project into the quarry in an attempt to make a park." The e-mail continued "...then the group would build multi-family housing (100-120 units)...anyone who travels along the Burleigh corridor would be affected by 7 a.m. to 7 p.m. dump truck operations for seven years. Petitions have been circulating, under the acronym B.R.A.D. (Brookfield Residents Against the Dump)." A link to a City of Brookfield Notice of Public Information Meeting document was included.

BRAD created a website about the development and direct-mailed a flyer promoting a rally at East High School. The flyer lists Mark Regal--Ingrid's son--as BRAD's president. Regal is quoted in the July 18, 2013,

Brookfield and Elm Grove Now

as saying during the public comment session of a Brookfield Common Council discussion of the Quarry Group proposal: "I have concerns about the safety of our residents on the pedestrian pathway. Every four minutes, there will be a risk of a dump truck hitting a pedestrian." That same evening, Veterinarian Laurie McCabe, owner and manager of Burleigh Road Animal Hospital, which also stands between Burleigh and the abandoned pit said: "The geese, deer, turkey, and other animals use the area as shelter and a quiet place for clean water. This project will contaminate the water. Leaving it alone is the best option. We implore you to fight with us, not against us."

Later, in an August 23

Milwaukee Journal Sentinel

article, Regal expressed worries about decreased property values, even

desolation

: "In a recent letter to the mayor, Regal says: 'A dump in the backyard of our properties will turn our luxury apartments into vacant buildings.'"



Compromise plan



On August 26, 2013, Mayor Steven Ponto announced at a BRAD rally held at Brookfield East High School that a compromise plan had been developed that would: 1. Reduce fill from 1.8 million cubic yards to 1 million cubic yards; 2. Leave a larger lake (22.75 acres versus 12.25 acres); 3. Reduce project time (preparation for fill, fill operation, preparation for a park) to five years from seven; and 4. Make the developer responsible for grading, bringing in top soil, and planting grass seed.

The mayor said the City of Brookfield would pay $1,150,000 for the resulting 70-acre park, using money from Brookfield's Park and Greenway Corridor funds, supplemented perhaps by money from the Wisconsin Department of Natural Resources Stewardship Fund.



NIMBYism



Those who live or own businesses near the hidden lake have learned the hard way that their concerns, dislikes, preferences, and worries are distant thirds to superior interests having to do with money and what is often termed the "greatest good for the greatest number." These individuals own the

backyards

in the expression "not in my backyard." NIMBYism matters little unless it's

your

backyard or

you're

among the business and government officials who deal with it regularly in situations ranging from the siting and expansion of airports to the location and operation of wind farms. Only rarely do government or business interests offer financial compensation for the burdens--perceived or real--those living or working near public projects bear.

It is equally unusual for citizens in the wider community to back the causes of NIMBY property owners. For example, BRAD's supporters probably didn't try to help Brookfield residents along Calhoun Road south of Blue Mound Road who fought expanding Calhoun to four lanes. And almost certainly not one has joined forces with citizens on or near Undercreek Parkway in Wauwatosa who are protesting the erection of towers strung with high voltage lines in the vicinity of their properties. I was a NIMBY property owner myself and wrote about two other NIMBY situations--the Arrowhead-Weston high voltage power line in northern Wisconsin and the Oak Creek Power Plant.

Affected neighbors experience a terrible feeling of helplessness when the weight of the state and financial interests bear down implacably like the glacier that created the moraine and set the stage for the pit and hidden lake.

I came away from my time as a NIMBY homeowner much wiser about

where

to invest in real estate, making sure it wasn't near arterials, railroad tracks, unused parcels with uncertain futures, landfills (abandoned, new, or proposed), high voltage power lines, and so on.


What makes this different from most NIMBY situations is the money the Regals have brought to bear. Websites and direct mail appeals are expensive and beyond the means of most citizens. After the first flyer, BRAD direct-mailed three additional postcards, one about a city planning commission meeting and two promoting rallies at the Venice Club and Maxims.

The Regals even hired an attorney, Alan H. Marcuvitz of Michael Best & Friedrich LLP, Milwaukee, to help BRAD make its case. He spoke at a Brookfield Planning Commission meeting that was held on September 9 in the Central High School gymnasium. Ponto and Ertl also addressed the crowd, along with representatives of the developer. The NIMBY audience was hostile and became boisterous and belligerent when one speaker from the developer mentioned that dumping operations might occasionally occur

after

7:00 p.m. With the crowd groaning, one man shouted, "That's what you think, buddy!"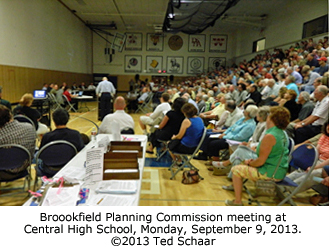 I bugged out when neighbors were invited to speak because I knew they would unleash a torrent of emotional condemnation. Never mind that it's likely every one who excoriated business and government representatives that evening will motor through the rebuilt Zoo Interchange happily and without thinking of the people living nearby who probably wish the entire freeway would go away. Period. Moreover, if they succeed in stopping the deposition of Zoo Interchange debris at the hidden lake, most likely they won't work to make sure its eventual destination doesn't rile others who live near the ultimate point of disposal or along the route to it.


Citizens applaud the conveniences better public facilities afford and generally only mind the irritations

when they are the ones being irritated

. This is a prime example of the phrase, "All politics is local," which is often attributed to former Speaker of the House Tip O'Neill but evidently was coined by Washington AP bureau chief Byron Price in 1932.8



Short-term nuisance, long-term good



Despite BRAD's protests, as projects go, this one is pretty good to neighbors. First, unlike many public improvements, the perceived nuisance produced by truck traffic and dumping operations will end after just five years. And second, neighbors will have a beautiful new park with an attractive lake in their midst when work is complete.

Concerns about possible reductions in property values ignore the reality that just about everything in the area bordered by Burleigh, 124th, North, and Lilly was built when the hidden lake property was a dawn-to-dusk--

even to 10:00 p.m.

--sand and gravel operation, with bulldozers, draglines, end loaders, excavators, and other heavy equipment gouging, scraping, processing, and rearranging the land noisily and dump trucks rumbling in and out.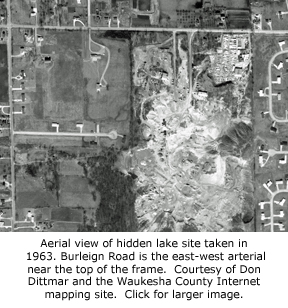 Don Dittmar, manager, Land Information Systems Division/LIO Waukesha County furnished the aerial to the left that shows what the pit and its surroundings looked like in 1963. Many of the homes that ring the site today were already in place; more were being added nearby and all around Brookfield at the time. You don't have to be a realtor to know that the kind of building boom Brookfield enjoyed during the fifties, sixties, and seventies wasn't slowed by day-to-day activities at what was then called Richardson Sand and Gravel Company, Inc. or its neighbor to the northeast, Split Rock Products.

I spoke with Alana Phelps, who operated Richardson Sand and Gravel with her first husband, about plans for the site that might culminate in a park: She told me she had just turned 89 and said: "With news like that, my David is smiling. He wanted so much to make it into something favorable. That's wonderful, wonderful!"


BRAD solicited signatures on a "Petition for Direct Legislation" designed to require the City of Brookfield to either adopt an ordinance the group proposed or ask voters to decide whether it should be adopted. If passed, the ordinance would force the city to put acquisition of the hidden lake property--or any formerly mined land--to a general vote, taking responsibility out of the hands of elected officials. Nothing in the petition directly stopped the hauling of fill to the site.



Brookfield and Elm Grove Now

published a "Message from the Mayor" about the situation on October 10, 2013. In the piece, the mayor invited citizens who have questions or comments to call him at 262 787-3525, so I did. Ponto didn't see anything in the petition effort that would stop Super Excavators or another company from legally depositing DOT-generated debris at the hidden lake. In his view, the proposed ordinance, if passed, would simply make it more difficult for the city to acquire the site for use as a park

after

dumping had occurred.




BRAD strategy



A voice mail I left on the BRAD hotline was returned by a representative who said the ordinance would prevent the city from paying $1.15 million for the site,

without the explicit approval of voters

. That uncertainty, he said, would dissuade Super Excavators from buying the property because its

real

motivation was selling the park to the city five years hence.

I also e-mailed a question to BRAD attorney Alan Marcuvitz who replied: "Mayor Ponto's support for the City's adoption of a cooperative agreement with those who propose the use of the site for a landfill rests exclusively on his expectation that, after 5 years of intense trucking and dumping activity, there will be an opportunity for the City to purchase the site and establish a park. The direct legislation petition prevents the City from acquiring the site, unless approved in a referendum. Without the 'end-game' of a park, the City has neither reason nor excuse for supporting the cooperative agreement."

BRAD's position appears to acknowledge there is no straightforward way to prevent the dumping of certain kinds of debris. The petition might have specified, for example, that

no dumping would be permitted unless a majority of Brookfield residents voted in favor of it

, but it didn't. As the mayor pointed out in his

Brookfield and Elm Grove Now

message, the city has few options due to Wisconsin Statute 85.193 that was, he wrote, "inserted in the 2011 state budget at the urging of special interests--the earth-movers. Its purpose was to effectively eliminate local control on fill operations if a landowner wished to accept clean fill from Wisconsin Department of Transportation projects."


Exploring how Super Excavators might profit from its involvement led me to contact the Wisconsin Department of Transportation's Zoo Interchange Team on October 22, 2013. ZIT never responded so I called WisDOT and reached Nancy Gibson, office of public affairs. I asked how much WisDOT was likely to pay or had paid in the past for hauling one million cubic yards of fill to a lawful dump site. Gibson's colleague, Lindsay Schmidt, WisDOT communications, replied in an e-mail that there is "no clear cut answer," however, "based on past large projects, the average unit cost for excavation is approximately $8.00/CY."

When I asked Schmidt in a follow-up e-mail if "excavation" included "digging the material out, hauling it away, and depositing it," I received a call from Michael Pyritz, WisDOT communications department. He stressed that forming a cost estimate was difficult because the job hadn't been "let out for bids" and past experience might not be an accurate guide to how much will be spent on this project due to a long list of variables. He also said bidders with relatively nearby disposal sites have an advantage over other competitors because the price of fuel is a major factor in the overall cost. He agreed to review a summary of our discussion that I later e-mailed to him but subsequently did not respond to e-mails.

For the most part, I have found the ZIT (this goofy acronym should tell everyone something--it reminds me of Richard M. Nixon's sadly appropriate "Committee to Re-Elect the President [CREEP]" from 1972) and its managing organization, WisDOT, unresponsive and evasive. Other attempts to obtain basic information or clarifications from ZIT or its parent have proved futile. Contacts with staff members of Senator Leah Vukmir, who represents my area, haven't been helpful, either.

It seems reasonable to conclude that if Mayor Ponto's compromise limit held, something in the neighborhood of $8,000,000 would likely be paid for hauling one million cubic yards of material to the hidden lake site.


The October 24, 2013,

Brookfield and Elm Grove Now

reported that BRAD submitted petitions with "more than 3,600 signatures" to Brookfield officials on October 18, 2013. A week later, a story in the same paper stated that the "city clerk confirmed October 24 that there were sufficient signatures" on the petitions "to force the council to consider the ordinance." The mayor urged its adoption, mainly to save time. "It would take a lot to educate the public about it," Ponto said, "and I think it's generally better for the council to make decisions than to send it to the public."



BRAD-authored ordinance passes


Two weeks later, following the mayor's lead, the Brookfield Common Council passed the BRAD ordinance as detailed in a November 7

Brookfield and Elm Grove Now

article. The same issue contained letters to the editor by BRAD President Regal and a Brookfield resident, each expressing an opposite point of view.


About a month later, the

Brookfield and Elm Grove Now

ran a front page story titled "BRAD leader gains option on Sileno property." This article indicated Regal was in negotiations to buy the property. However, it contained the odd wording that he, "...accepted an offer to purchase the land..." Usually, a company or individual

makes

an offer, not

accepts

one. In any case, the article reported that the offer is "...on the contingency that he (Regal) can get a development agreement with the city to build 120 luxury apartments." The city is weighing that now.

On the heels of Regal's actions, a public hearing was held at the state capitol on a bill that would make it harder for companies to dump materials on a property without the consent of the local municipality and nearby residents. Peter Schraufnagel of Super Excavators spoke against the bill, according to a

Brookfield and Elm Grove Now

story that appeared on December 26. The article

notes that, "Schraufnagel said his company put nine months of work and more than $125,000 in consulting fees into its proposal for the (hidden lake) property..."

A week later a story in the January 2, 2014,

Brookfield and Elm Grove Now

reported Regal, "...paid his attorney...more than $100,000 to help him defeat Super Excavators' plans to bring fill from the Zoo Interchange project"; the story also credits Marcuvitz with coining the BRAD name and acronym.

This means that between the two sides, after something in the neighborhood of $225,000 was spent, nothing has changed.


On February 20,

Brookfield and Elm Grove Now

featured a story about a Brookfield Plan Commission and Park and Recreation Commission meeting that the article states was intended "solely to give feedback" on Regal family plans for the hidden lake site. According to the article, the "Regal family's proposal includes building 89 to 112 luxury apartments on 10 acres of the property and donating the remaining acres for a park, conservancy, or both." Commission members reportedly reacted favorably although some concerns about safety were voiced.


The

Milwaukee Journal Sentinel

published another report about Regal's plans on June 9, 2014. The article states that he presented city officials with, "A detailed plan to develop 113 apartments and a city park..." Called the "Hidden Lake Preserve," its address would be 13275 West Burleigh Road. About 61 acres around the lake, including the rectangle of land that connects to Lilly Road, would be preserved as a "nature conservancy." Regal proposes giving the lake a formal name for the first time and calling it Lake Ingrid as a salute to his mother.

Though a sweet gesture, I'd prefer formalizing the "hidden lake" moniker many have known it by or better, a name that acknowledges its glacial origins or the many centuries Native Americans lived in the area.

1. http://www.waukeshacounty.gov/defaultwc.aspx?id=39458.
2. "Ice Age Deposits of Wisconsin," PDF. University of Wisconsin--Extension. Geological and Natural History Survey.
3.

Roadside Geology of Wisconsin

Robert H. Dott, Jr. and John W. Attig 2004, Mountain Press Publishing Company, page 52.
4. Ibid. Page 25.
5. http://www.geo.msu.edu/geogmich/sand&gravel.html
6. Ibid.
7. http://www.dollartimes.com/calculators/inflation.htm/
8. http://www.redstate.com/barrypopik/2010/09/28/origin-of-all-politics-is-local-attention-rachel-maddow/



* * *